No way! Don't tell me you have never made liver pate yourself? Why? It's soooo easy! Well, hmm, I have to admit – neither had I, until today.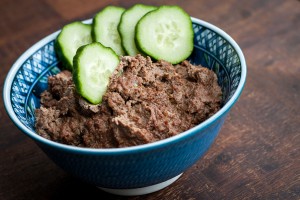 And – it was actually really quite easy and I will share with you the recipe to see for yourself. Now – this was in no way invented by me. In fact – you can find the original recipe I tried to follow right here: http://paleo.com.au/2013/02/recipe-paleo-chicken-liver-pate/
But the reason I am still posting it over on my blog is to show how you can use being creative when cooking after a recipe but realizing you don't have the right amount of things or even the right ingredients.