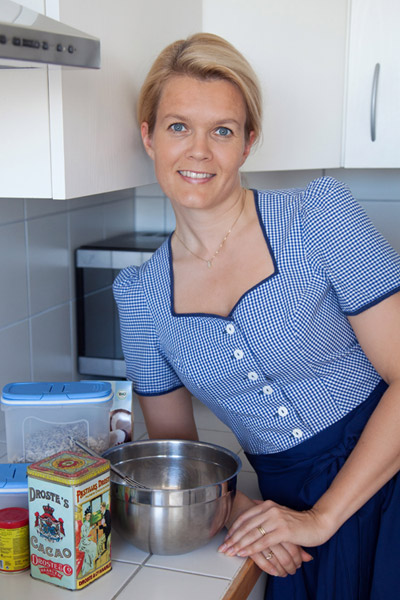 Welcome to Liesel at Home, and welcome into my kitchen! This is a blog about creative and healthy baking and cooking.I am Lisa. A Swedish housewife currently living in Berlin. My husband calls me Liesel – the German cozy version of Lisa.
I have always been, what you could call, creative. I've studied art and been an artist – selling and teaching – mostly aquarelle and oil on canvas, I have an education in photography, I've made and sold jewelry, I love sewing and I'm always busy decorating and redecorating our home (this especially since we've moved countries 8 times in 15 years).
However, the one ongoing creative activity through all the years has been the baking. I've baked bread, crackers, cakes and cookies – always experimenting with new ideas and coming up with new recipes.
Since 2012, we no longer eat sugar or flour from grains. What in the beginning was a challenge has now become another passion for me. It's a trial and error (or total success) these days and the jury is mostly my family – my handsome German husband, and our 2 lovely kids. So thank you Peter, Albin and Elin for patiently eating anything I put on the table!
Normally I start my days early. I put on some nice music in the kitchen and bake something, often making up the recipes as I go along. Loving a huge breakfast, I then add scrambled or boiled eggs, veggies, yoghurts with fruit and nuts, pancakes or whatever I come up with – before waking up the rest of the family. This is my way of showing love, and giving my family a healthy and tasty start of the day. Knowing breakfast time is stressful in most families – I hope to be able to give you a few ideas, on how to turn your mornings into something wonderful too!
I should point out that I am not a dietist, nor do I have any education what so ever in baking or cooking. Even so – should I inspire you – I wish you joy and fun while baking away!
Happy baking!
Liesel