To be totally honest – I am all for a glass of wine every now and then and I have been seen on more than one occasion sipping a gin and tonic. But my big love when it comes to drinks is still home made ice tea. This is my all day, and every day drink and I never tire. Mostly because you can vary it endlessly, using different teas and different additions. Read on to find my favorites right now.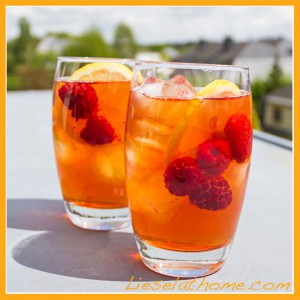 Let's start off with the very short and easy instruction on how to make ice tea – the Liesel way:
Brew strong tea
Find a nice glass
Fill that glass with ice cubes and lemon or lime slices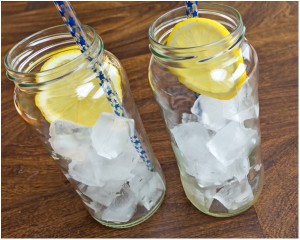 Pour the tea over the ice
Enjoy!
Of course you can also make a whole jug of ice tea – which is what we do at meal time, squeezing in the juice of half a lemon.
As for the tea, I prefer to make rooibos tea and always from loose tea. Of course black or green tea is lovely too, but drinking the amounts that I do, the caffeine would make me totally hyper…
My 3 favorite teas right now are:
Rooitea Kirsche-Cranberry (Rooibos cherry and cranberry) which is really fruity and goes well with lemon and some added frozen raspberries in my glass or in the jug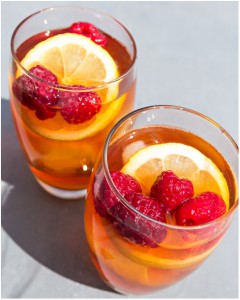 Rooitea Panna Cotta-Rhabarber-Sahne (Rooibos panna cotta, rhubarb and cream) which is lovely creamy and perfect as it is with just ice – or with added lemon and possibly even a few frozen blueberries.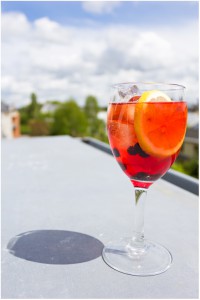 Grüner Rooitea Limone-Ingwer (green Rooibos, lime and ginger) which I am sipping on, at my desk, as I write this – with ice and a few slices of lime in the glass. Very refreshing!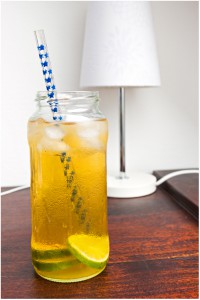 All these teas come from TeeGschwendner. In Luxembourg town you'll find them on: 8, rue Notre-Dame. Or online on teegschwendner.de where at the bottom of that page you can change country and language where the little German flag is.
(I should mention that I am NOT an affiliate – I simply highly recommend them because I am very happy with every single tea I ever bought there)
Enjoy,
Liesel