There are nice breakfasts, and there are really great breakfasts. And then there are absolutely amazing breakfasts. This is one of those! Again – you may thank my son for this one. Because he dislikes the taste of eggs, I constantly try to make up ways of cooking our breakfast eggs to make them healthy and tasty without tasting just like actual eggs. You have got to try this! Read on for the quick recipe of this 4-ingredients pancake omelet from heaven.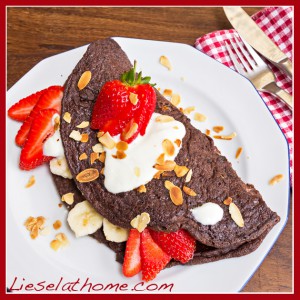 For the actual pancake omelet you'll need only four ingredients: banana, eggs, cacao powder and coconut flour. To this we'll add some toppings and a lovely honey-sweetened yogurt. But we'll start with the pancake omelet. One serving. In a big bowl:
1 small banana – mash it!
add 3 eggs
1 tbsp. cacao powder
1 tbsp. coconut flour
awww – and actually, do add a pinch of salt too. Sorry if this makes it 5 ingredients…. But salt hardly counts – does it?
Whisk it all together and heat up a small pan. I use coconut oil as fat for the pan. Fry for 3-4 minutes over medium heat until the top is getting more or less solid. Turn around – flip in the air if you can – and fry the other side for another minute or so.
Then put on a plate and slice some banana, and possibly strawberries too. For the yogurt sauce – just take a few spoons of natural yogurt and sweeten it slightly with a drizzle of honey. Then drizzle the yogurt sauce over the pancake. I also sprinkled some roasted almond slices over mine – just as a finishing touch.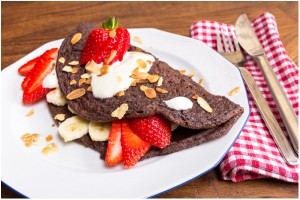 Now – when I make this for the family in the morning, I am not standing there making 4 of these in a row! What I do is triple the ingredients – 3 small bananas (or 2 big), 9 eggs, 3 tbsp. cacao powder, 3 tbsp. coconut flour and a pinch of salt.
I then fry over medium heat for 3-4 minutes and then transfer the whole pan into the oven (pre-heated to 180 C /360 F) and bake for about 15 minutes. During these 15 minutes I make, tea and coffe, set the table, cut the fruit, make the yogurt sauce and wake up my loved ones. But you could also ask your loved ones to do that and go have a shower. 🙂
When baked – just serve out of the pan, with toppings sprinkled over, like below where I had strawberries, yogurt sauce and fresh mentha (mint) leaves. It cuts easily.
Just make sure your pan is oven proof!!!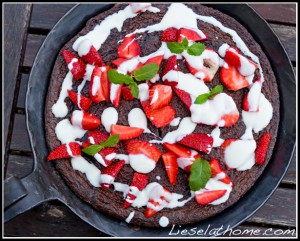 And here a few added inspirational pictures added in later: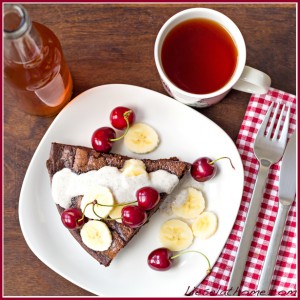 Here, a slice, with cherries, banana and yoghurt (with honey and vanilla)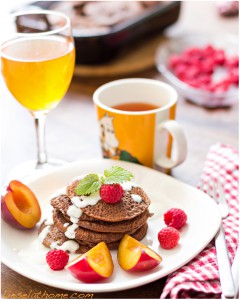 You can also make small pancakes with the same recipe. Here with plums, raspberries and yogurt.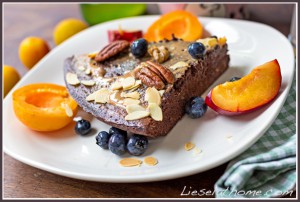 This one is lactose free (no yogurt) with almond butter spread over – served with apricots, plums, blueberries and nuts.
Enjoy!
Liesel
Absolutely amazing 4-ingredients chocolate pancake omelet