Spinach is a very versatile leaf. Supposedly healthy as well. We always have spinach at home and I like to add it to at least one meal every day. Yesterday it was breakfast (and later on we had spinach as a side for dinner as well, but that is another story…). This recipe for spinach pancakes is really simple and can be varied easily.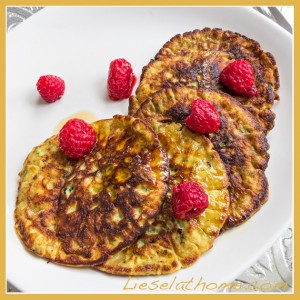 Frozen spinach is easy to always have at home and available, so that is what I used. Start by thawing the spinach in a pot on low heat like this:
150g (5.3 oz.) spinach
2 tbsp.'s butter (or coconut oil)
the grated zest (peel) of one lemon
the juice of half that lemon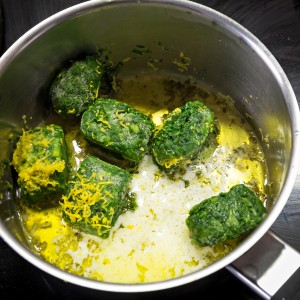 Meanwhile in a big bowl:
mash one banana
add 6 eggs
a pinch of salt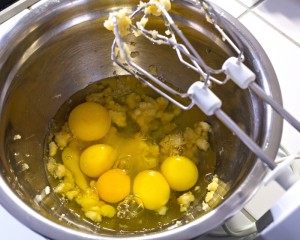 you can actually leave it at that, but you can also keep on adding:
100 g (3.5 oz.) mascarpone or fresh cream cheese 
100 ml (0.4 cup) almond flour – which is just ground blanched almonds
whisk and then add the thawed spinach and mix it all.
Get your pancake pan out and start frying away. If you don't have a special pancake pan just make little heaps in a normal pan.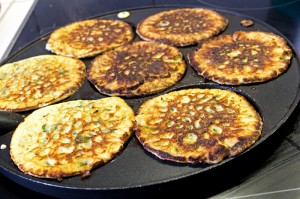 I fry them in a little butter and like them to get some serious color
Serve with some berries – I had frozen raspberries that I thawed – and maybe even a drizzle of maple sirup for extra yummyness. 🙂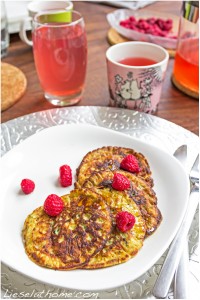 The tea is a fruit tea – "gebrannte mandel" from "Tee Gschwendner" – and in my glass is the same tea poured over ice and with an added squeeze of lemon – as ice tea!
I have to admit I ate a few more pancakes than pictured… Maybe eight? This recipe made about 24 thin pancakes in total… But it was only me and my kids at the breakfast table so it was enough for us.
Next time I will add even more spinach to make them greener!
Enjoy!
Liesel
Another use for spinach – pancakes!