The best thing about the holiday season must be all the lovely leftovers. Cooking in bulk and re-heating stuff for days after – in new combinations. Quick, easy and tasty! Still, sometimes I just feel like a fruit salad or a yoghurt  instead of a big meal. And I want muesli with that. Our last batch of Christmas Muesli was gone, and to be honest – I don't feel very Christmassy any more. But chocolate, oh – any day is a chocolate day!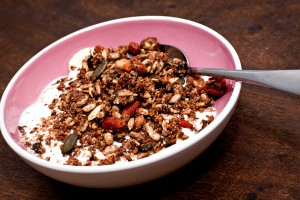 Turn oven to 170 C (340 F)
In a big bowl:
100 ml (0.4 cup) sunflower seeds
100 ml (0.4 cup) flaxseeds (also called linseeds) slightly ground
100 ml (0.4 cup) shredded coconut
100 ml (0.4 cup) pumpkin seeds – chopped
100 ml (0.4 cup) chopped nuts – I used hazelnuts
100 ml (0.4 cup) goji berries – leave out, or substitute with other dried berries, if you don't have goji. I just happen to be hooked on them right now….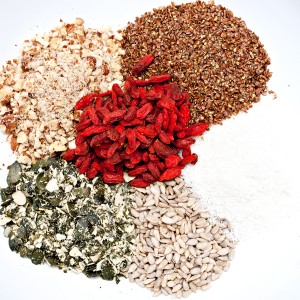 You can hardly see the shredded coconut here in my huge white bowl…. I should have put them in the middle 🙂
Anyway… then add
1 tbsp cacao powder
¼ teaspoon salt
1 tbsp honey
3 tbsp's cold water
Stir until completely mixed and spread on a baking tray.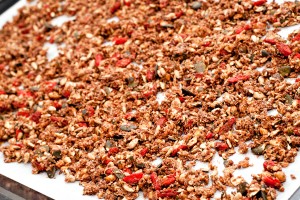 Bake in the middle of the oven for about 10 minutes. Then, stir muesli, turn oven off, leave the tray in the oven and leave the oven door slightly open. (a wooden spoon in the door opening will do)
Leave until it has cooled down. Or, ok – just eat some with a spoon, all warm, directly from the oven… Mmmm…  🙂
Enjoy!
Liesel
Any day is a chocolate day – Muesli