The Americans have their brownies. The Swedes have something we call "kladdkaka" which would be translated "sticky cake". They are in many ways very similar, and both have the intense, sweet, chocolate flavor.
Here's a version of, well – let's just call it Brown Sticky Cake!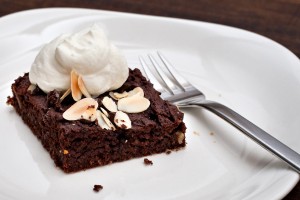 No sugar, and no wheat flour – this is what I used instead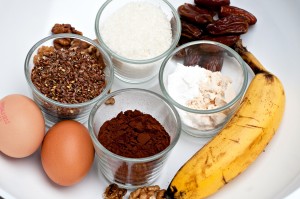 For sweetness – one banana and 10 dried dates.
Dry ingredients – shredded coconut, flax seeds, coconut flour, cacao and baking powder.
2 eggs, walnuts and not showing on pic – butter, chocolate chips and almond slices.
Start by preparing the baking form you want to use. I have a square 20x20cm (7.9×7.9  Inch) form where you can lift out the bottom – which is perfect for this kind of baking – but use whatever form you have. Size should be around the same though – or you have to adjust the amount of the ingredients. I use butter and almond powder to line the inside.
 Finely mix (in a mixer or grinder) 100 ml (0.4 cup) flax seeds (that's also called linseeds) and 100 ml (0.4 cup) shredded coconut together with the 10 dates. If you have a small mixer, like I have, do this in two portions. Half the dates with the flax seeds, and the other half with the shredded coconut. Or, you know, the other way around if you want to…
Empty the mixed flax, coconut and dates into a big bowl and add all other dry ingredients
2 tbsp coconut flour
1 teaspoon baking powder
4 tbsp cacao powder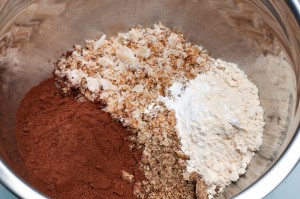 and mix them all together with a spoon or fork.
Melt 50 g (0.1 lb) butter or ghee or coconut oil (easy in a small bowl or glass in the microwave oven, or in a pot on the stove – which is still "easy" but you'll have more dishes to do….)
Now is also a good time to turn on the oven – 180 C (350 F). And let's give ourselvs a pat on the shoulder for not forgetting that this time!
In another bowl,
mash one banana
add 2 eggs and whisk
If you want the cake very sweet, you can add a tbsp or two of honey here. I did not, and my kids still loved them, but we're all different when it comes to taste. I won't judge you, you know…
Now pour the egg-banana-mix into the bowl of dry ingredients and whisk. Add the melted butter and keep stirring. Add some chopped nuts (I used a handful of walnuts) and stir.
Fill your form, and if you have at hand you can top it off with some dark chocolate chips (or chopped dark chocolate), and / or some almond slices.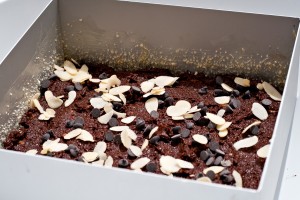 Bake in the middle or bottom part of the oven for 18 – 20 minutes.
Let it cool down totally before cutting into pieces. Serve with a dollop of whipped cream, or natural yoghurt mixed with a few drops of honey.
I have no idea how long you can store this in the fridge. Mine was gone pretty much within minutes…. But if you hide it – maybe it could last a few days?
Happy baking!
Liesel