One of my absolute favorite desserts is chocolate pudding. The recipe I posted as a guest post on CLEW.lu a while back has been popular in this house ever since then. But then, I started to think – what if…? What if I changed that, or what if I added this? So last week I tried a few different small changes to the original recipe and we now have a new favorite. It's creamier then the original and could even be considered healthier, since we add coconut oil and linseeds, but most importantly – it's absolutely delicious!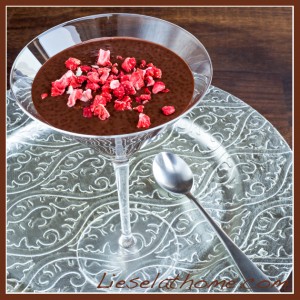 It's just as quick to make and almost just as easy. Start with about 600 ml coconut milk. Either store bought or homemade. I prefer the homemade one as it's tastier – and cheaper too! Mix all ingredients in a container with a tight fitting lid since you are going to shake it to mix everything. If you don't have that – I guess you could just use a bowl and an electrical whisk…
So put all the ingredients in the container:
600 ml (2.5 cup) coconut milk, slightly warm
2 tbsp.'s coconut oil
100 ml (0.4 cup) chia seeds
100 ml (0.4 cup) cacao powder
50 ml (roughly 3 tbsp.'s) ground flax seeds (linseeds) – and I mean really ground – to a powder… Use a mixer or grinder.
1-2 tbsp.'s honey (I have to admit – I use 2 tbsp.'s….)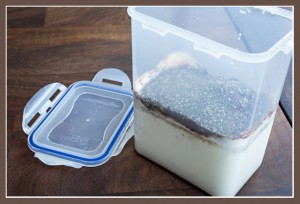 Once you have everything – put the lid on and start shaking really, really well. Do not stop to take a picture (or 10 pictures, rather) like I did because the chia seeds will start to swell and might stick together and end up in big chunks…  So rather shake straight away!
The coconut milk needs to be slightly warm (just lukewarm) so that the coconut oil melts (or stays fluid) while everything mixes.
Leave in the container to soak and swell for about 10 – 15 minutes, shaking every now and then to get an even mix.
Then fill glasses, bowls, or even muffin forms. And place them in the fridge for at least 45 minutes. Or make them a day in advance…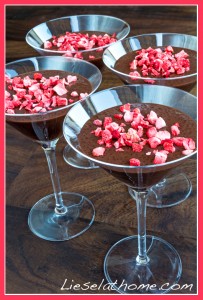 This amount is about 6 portions. I made the 4 glasses and then filled the rest into a few silicon muffin forms, to eat the next day. I'm gonna make another batch today and only fill muffin forms – perfect to keep in a box in the fridge and just get one out when you have chocolate cravings. 🙂
Place the muffin forms in a box or on a tray since they are a bit wobbly before they cool down completely…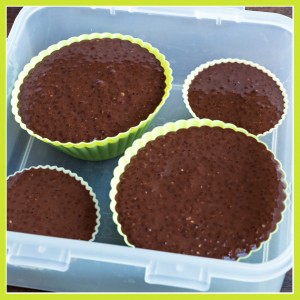 Now – the puddings in the fancy glasses, I decorated by sprinkling some dried strawberry pieces before putting them into the fridge. But you can also serve with sliced banana, fresh raspberries, mango – and / or whipped cream.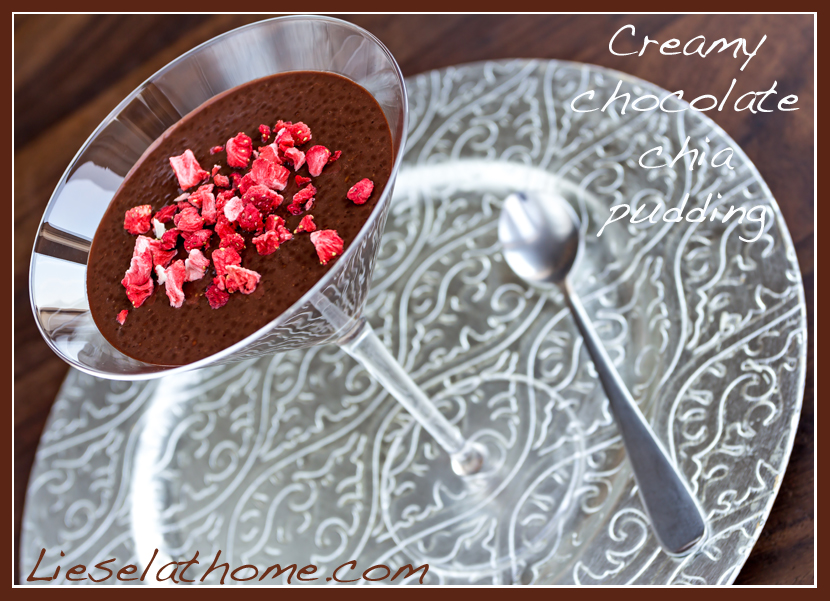 Absolutely delicious – I promise!
Enjoy,
Liesel
Creamy chocolate chia puddings