Don't know about you, but for me strong colors inspire me to create. When it comes to food – a sight like this totally excites me 🙂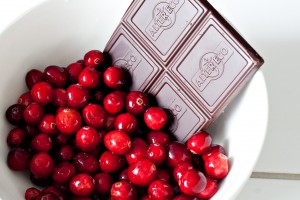 Both the colors and the tastes. The bitter dark chocolate combined with the refreshing sour taste of the cranberries. Let's make muffins! And since there can never be to much chocolate in life – I'm making these muffins Double Chocolate!
Here we go… And don't worry if you are missing some of the ingredients. It's almost always possible to work around.
Start with a banana or two, depending on the size. Mash it in a big bowl with your electric whisk.
Add 4 eggs and beat until it starts to foam.
Now add 2 tbsp of oil (I use walnut oil) or melted butter, or other prefered fat and 1 tbsp of vinegar (I prefer balsamic but you can also leave it out totally if you wish. The vinegar helpes the baking powder – but is not a must)
And then I prefer to add a tbsp or two of honey. For a sweeter muffin, add more, for less sweet – well, you get it!
Are you still with me? Now let's move on to the dry ingredients. Grab a smaller bowl (and a grinder or a good mixer/chopper).
100 ml (a little less than 1/2 cup) shredded coconut + 50 ml (bit more than 3 tbsp) flexseeds – and if you have, 4 dried dates (or use raisins – bit more than 4 though….). Combine in a grinder/mixer and grind. (And then put this into your smaller bowl)
100 ml (again – little less than 1/2 cup) sunflower seeds – grind this, and add to your small bowl.
100 ml (bit less then 1/2 cup) almond flour (also called almond powder – basically finely ground almonds. Use your mixer if you have whole almonds but make sure to blanche them first!) Add to bowl.
And last 2 tbsp of coconut flour (this is a flour – different from shredded / ground coconut. Can be substituted by potato flour 1-1 or with any of above mentioned ground seeds and nuts, but then double the amount!)
Now that's about 400 ml (1.7 cups) – all of these ingredients can be substituted with each other – so for example if you don't have flex seeds – just add more sunflowers or which ever mix you want to do. Or use other nuts…. Back to the recipe…
Now add 2 tea spoons of baking powder to the dry ingredients
And 3 tbsp of cocoa powder
Mix the dry ingredients together.
Hopefully you didn't eat the chocolate by now. If yes – get some more! If not – then chop it! You'll need at least 40 g – dark, good quality chocolate. I use an 85% dark faire trade organic one.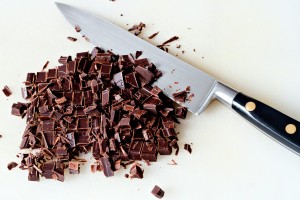 Done chopping? Now mix everything into the big bowl (where the eggs and stuff is) Good news here – since we don't use any conventional flour, you can use the electrical whisk!
This is about the time when I normally realize I forgot to turn on the oven. So if you haven't already – do it now! 180-200 degrees C (350 – 390 F) depending on oven.
Then fill your muffin forms, 12-15 normal size ones or 35-40 mini ones (I used the mini size) I prefer to use silicon forms, but take whatever you have.
Last but not least press a few cranberries into each muffin (if you are feeling lazy you can just add them to the dough before filling forms… about 250 ml or a cup). Don't over fill! Leave space to rise.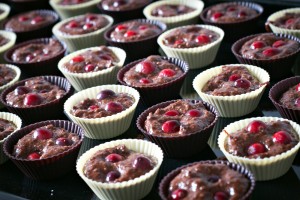 Put into oven somewhere in the middle for about 18-20 minutes, and – voila – done!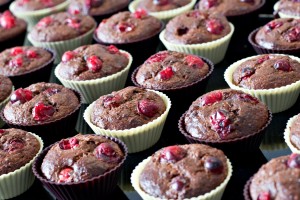 Happy baking, and let me know how they turned out (or if you have any questions!)
Liesel
Double Chocolate Cranberry Muffin