For a long time now I've settled into making chocolate muffins regularly using a really simple recipe. All ingredients go into one big bowl and are quickly mixed using a handheld blender. The recipe is of course gluten free, but also lactose free and can easily be made nut free too.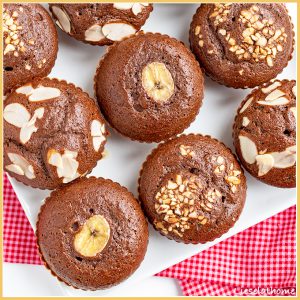 All you need is a big bowl, a handheld blender, muffin forms or a cake form and an oven turned to 200 C (390 F)
In your bowl, add:
1 banana
4 eggs
3 tbsp coconut oil
2 tbsp honey or maple syrup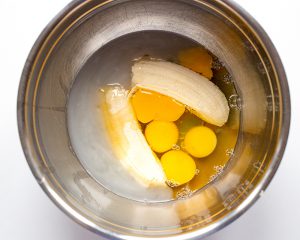 keep adding…
100 ml (0.4 cup) buckwheat flour
100 ml (0.4 cup) almond flour – or for nut free version another 50 ml (3 tbsp) buckwheat flour
3 tbsp cacao
2 teaspoon baking powder
pinch of salt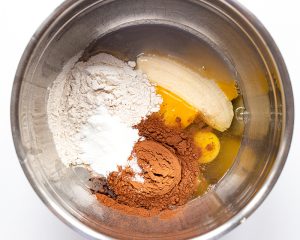 Use the blender to quickly mix all ingredients.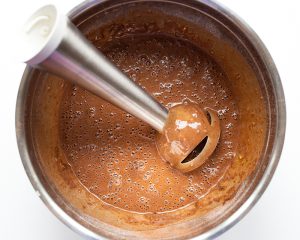 Fill muffin forms (or a cake form – I'll get back to that later!)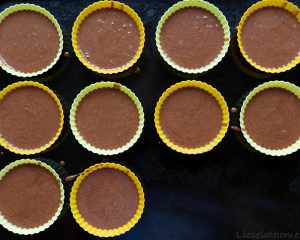 About 10 regular sized ones, or a whole lot more if you have mini sized ones. Now you can easily stop here and just place the baking tray in the oven as they are. Or you can get creative and top the muffins with banana slices, nuts, berries or shredded coconut for example. I used banana, chopped hazelnuts and almond slices this time.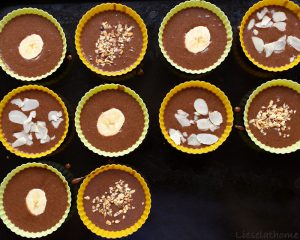 Bake in the middle of the oven for approx 25 minutes. Keep an eye on them so they don't get burned. Oven functions vary a lot!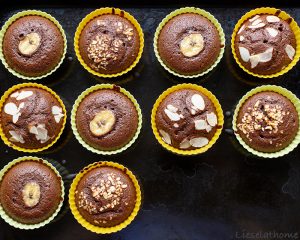 Ta-Da! They are so pretty, and so tasty and has the perfect spongy and fluffy texture.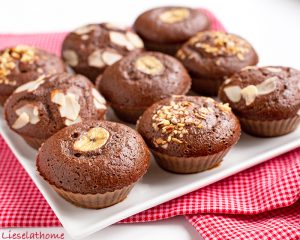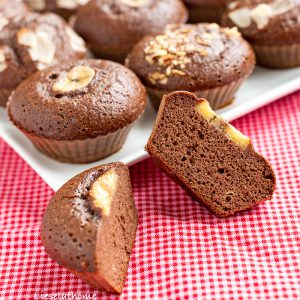 Using the exact same recipe you can also fill a smallish cake form. and bake at about 170-180 C (340-360 F) depending on height of cake – for about 30-40 minutes, again depending on the size of your form / the height of the cake.
Enjoy!
Lisel