Yesterday, I made Pumpkin Cranberry Cake for dessert. A very popular one in this family. It is colorful and creamy, full of good ingredients and lots of different tastes to trigger your taste buds! And it can very well be done ahead if you're short on time.
This is what we need!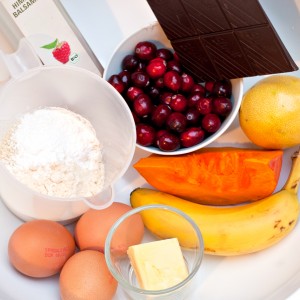 A slice of pumpkin, butter (in the little glass), banana – actually only half of it, a lemon – the zest, 3 eggs, cranberries, in the measure cup I have almond flour, coconut flour and baking powder, and the glass bottle in the back is vinegar. Oh, and I almost forgot the best part… Dark chocolate!!!
 Start with peeling a slice of pumpkin (about 200-250g – 0.5 lb) and cut into pieces. Cook in salted water for about 8 minutes – until soft.
Meanwhile, prepare your baking form. I have a very cute little form – only 14 cm wide (5.5 inch) – perfect for a cake, for just the four of us. It gives a small but high cake. If you only have bigger forms, your cake will either be thinner – which is also ok! – or you double all the ingredients, for a much larger form.
Use butter (or ghee or coconut oil) and almond flour to line your form to prevent the cake from sticking to it.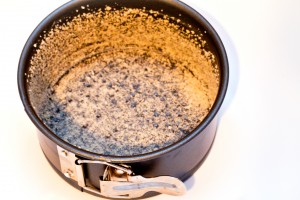 Wash your cranberries – about 200 ml (something like 0.8 cup). You don't have cranberries? I can imagine red (or black) currants could work. You need something with a strong, and a bit sour, taste…
Then mix dry ingredients:
150 ml (0.6 cup) almond flour
3 tbsp coconut flour (if you don't have this, just use 100 ml more almond flour, which makes a TOTAL of 1 cup almond flour)
1.5 teaspoons of baking powder
In a big bowl,
Mash a half banana (or if you are concious of your sugar (fructose) intake – leave out!)
Crack 3 eggs and mix. Electric whisk or very strong arms will do the work!
Add 1 tbsp of vinegar. I have a wonderful raspberry balsamic vinegar, but use what you have. The vinegar helps the baking powder to react and makes the cake rise.
grate the lemon zest from one lemon, and add that too.
Now comes the part that makes it all worth it….
Chop the chocolate into small pieces. Picture, at the top of this post, shows 60 g – the cake needs 50 g (1.75 ounce) – the last piece is for you to munch on while baking. See, told you! Totally worth it! 🙂
I chose a 70% dark chocolate(Lindt makes a great one) but feel free to go darker if you are conscious of your sugar intake. The cake will be just as great!
Those pumpkin pieces should be done by now.
Drain the water and add a chunk of butter – 40-50 gram (0.1 lb). The butter will melt with the warm pumpkin pieces and you can now easily mash them with just a fork.
And this is when I (AGAIN) realized I had forgotten to turn on the oven. So do that now if you didn't already. 160 C / 320 F. And relax – the oven does not have to have the right temperature when you put your cake in it. Worst comes worst, you might just need to add a few minutes to the baking time. So what – no big deal!
Now mix everything into the eggs. Start with the pumpkin mash, then the dry ingredients, then cranberries and chocolate. The colors are intense – thanks to the pumpkin making it so yellow!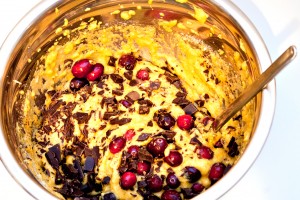 Fill your form and put into the oven. Mine took 40 minutes. If you have a larger form (and lower cake) you will need less time – maybe as little as 25 minutes. So keep an eye on it!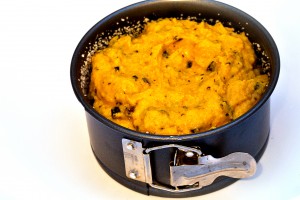 This cake is so creamy, and so tasteful ( and colorful!) that there will be no need for additional cream or vanilla sauce or whatever. Just put a slice on a plate and serve. Easy as that!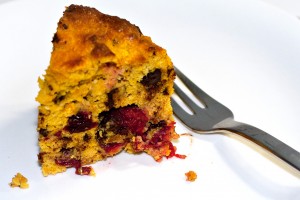 Enjoy!
Liesel