Vegan cheesecakes – that aren't actually cheesecakes, but a nut based version that are similar to cheesecakes have become quite trendy. I tried a recipe a while back and liked the idea. Added in a personal touch – and here we have the result. A colorful saffron "cheese"-cake with raspberry hearts.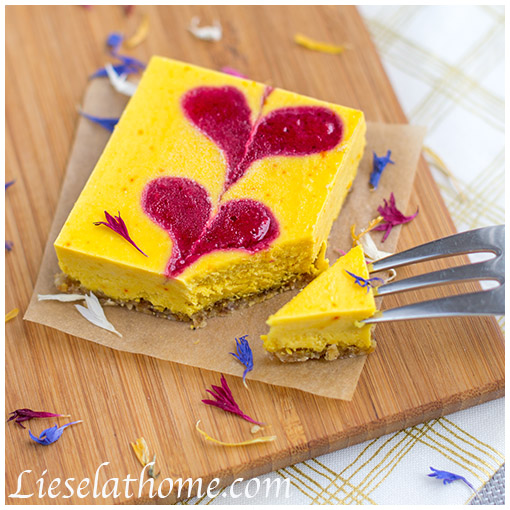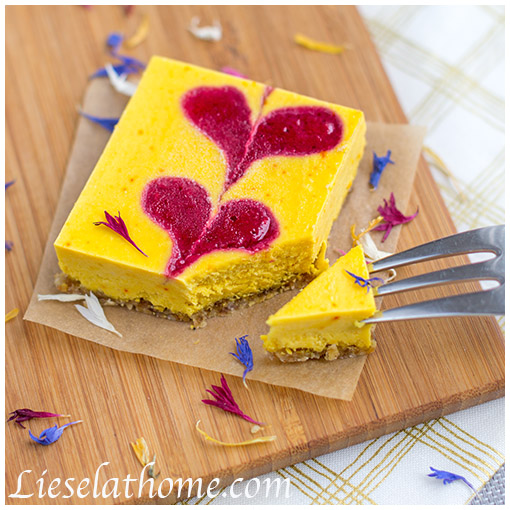 First of all – the original recipe that this cake is based on is THIS ONE from minimalistbaker.com. I've made it several times and it's a fantastic recipe, totally worth trying out!
I wanted to have a less sweet version, so needed another interesting taste – hence the saffron. Saffron also adds in some lovely color and together with the raspberries this cake suddenly becomes a beautiful piece of art.
We won't need an oven. This is a no-bake cake. But you will need a mixer.
Start by soaking about 400 ml  (1.5 cup) raw cashew nuts. Measure the amount in a measuring jug and add boiling hot water to cover them and leave for about 1 hour.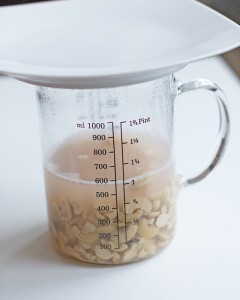 Also get a handful of raspberries from the freezer and thaw them by placing them in a bowl, that you place in another bowl with hot water. Or just use fresh raspberries… But leave them for later.
Meanwhile make the cake crust
10 medjool dates
a big handful of walnuts (something like 100 ml)
3 tbsp ground flaxseeds
pinch of salt
mix the above in a mixer until it crumbles and then add
stir and press the "dough" into a medium sized cake form. I like to line it with parchment paper first to save me the trouble when removing the frozen cake.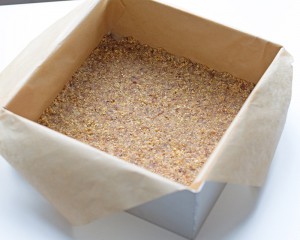 Then, once the hour of soaking is up, add them plus the following into a mixer jug:
the soaked cashews
juice from one lemon
100 ml coconut oil (needs to be fluid – so heat it slightly if it's hard)
150 ml coconut milk – from a can (shake it first) or homemade
0.5 gram saffron
3 tbsp honey or maple sirup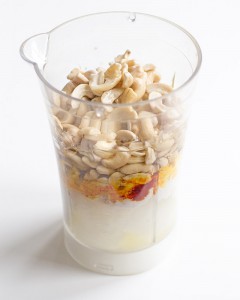 Mix it until it looks like this: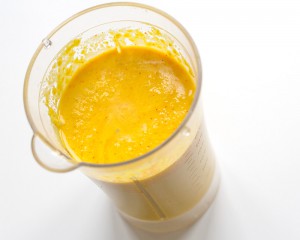 The creamier the better!
Now, here comes the "not so vegan" part of this cake. I use gelatine to get the perfect texture. If you want to make the cake vegan, just skip the gelatine.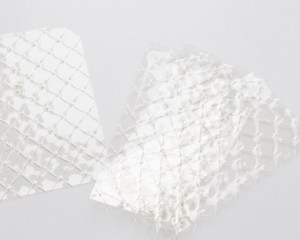 Looks like plastic…But is amazing. Soak in cold water (read instructions on package) and then slowly melt on low heat in a pot together with a little coconut milk or water. Then add the the yellow creamy mix.
Add the saffron mix to the cake form
Push the raspberries through a sieve to get rid of the annoying little seeds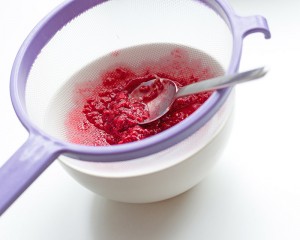 And now start making art! Use a small spoon and toothpicks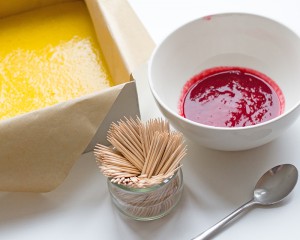 With the spoon, carefully drop little lines of raspberry mash, into the saffron cake mix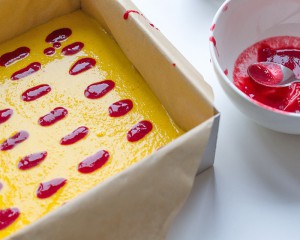 Something like this!
And then using a toothpick, carefully draw a line through the middle of those lines…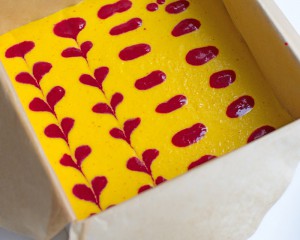 Once done decorating, place the cake in the freezer to settle. This will take a few hours – 3 at least, but you can also leave it over night or for a few days…
Get the cake out at least 15 minutes prior to serving. Cut into pieces and only take as many pieces as you need. The rest can stay in the freezer until next time you want some.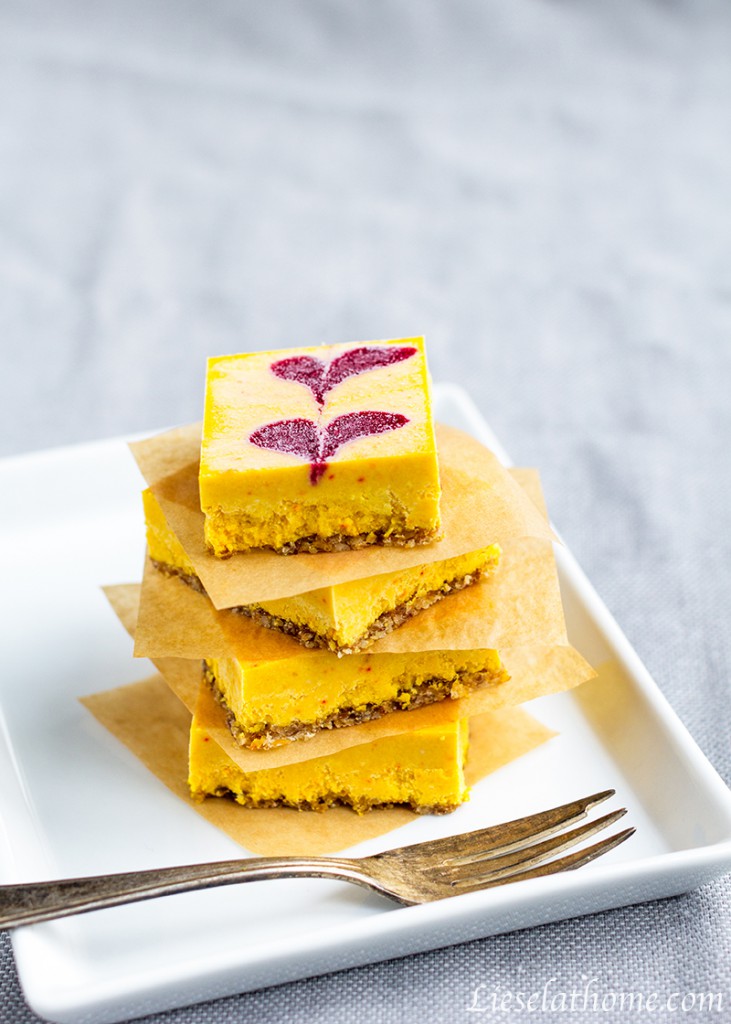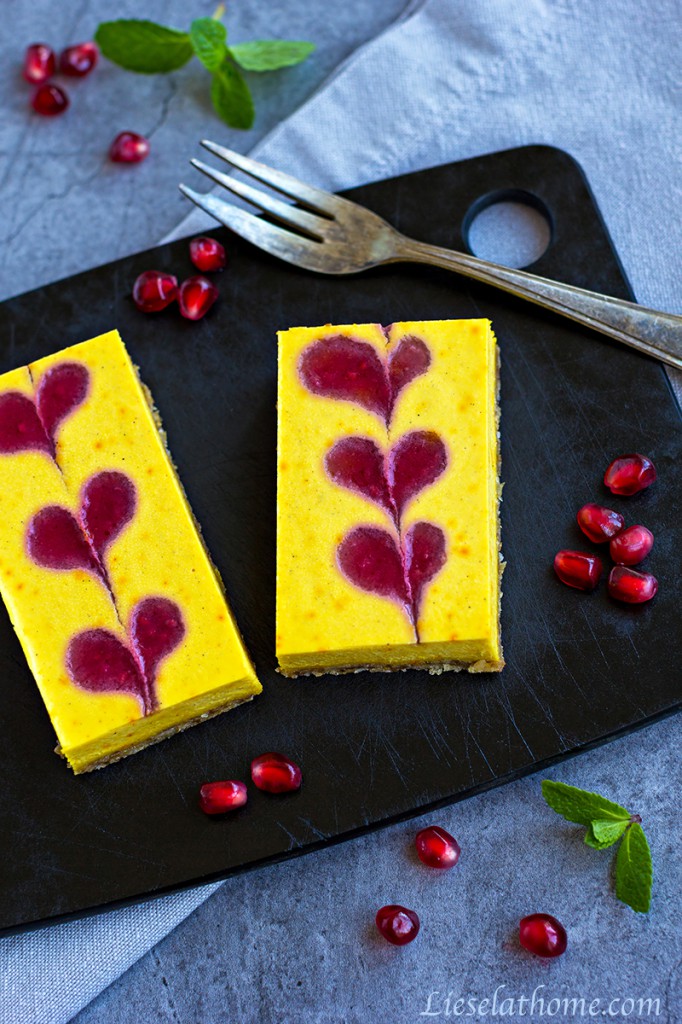 And here is the reason for adding gelatine – the cake stays in perfect shape even after an hour or more out of the freezer.
Enjoy!
Liesel
Saffron "cheese"-cake with raspberry hearts