We never keep much in our freezer, but one thing that we always have are berries. Bananas are always in our fruit bowl, and eggs – always plenty in the fridge. The combination makes an excellent base for a berry pie! Top it off with some coconut and almonds and boom – berry pie meets Scandinavian Tosca cake! Amazing is all I can say! (Well – I could add "easy" and "quick" as well…)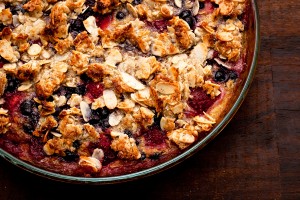 Turn the oven on – 180 C (350F)
This is so easy, you'll think you must have missed a few steps…
Mash 2 small bananas (or less if they are really big)
Add 3 eggs and whisk
Pour into a pie form – this is more fluid then solid, hence the "pour".
Sprinkle with berries – I use a combination of strawberries, raspberries and blueberries – and a tip would be to not so much "sprinkle" if you use strawberries, but rather "place them" evenly and then add the other berries. I use frozen berries and just thaw them in the micro a bit before.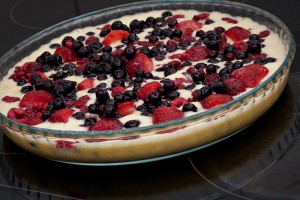 Place this in the oven, set the timer for 15 minutes and meanwhile do the topping
Butter – about 50 g (1.8 ounce)
100 ml (0.4 cup) shredded coconut
150 ml (0.6 cup) almond slices
½ teaspoon vanilla powder
½ – 1 tbsp honey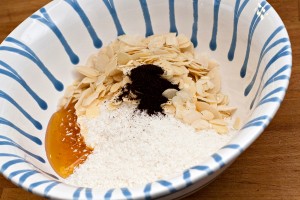 Mix this – which is easy to do if you microwave the butter (30 seconds) soft first.
Once the 15 minutes are up, get the pie out of the oven and sprinkle the topping over it. Try to spread it out as evenly as possible – and as thin as you can. Not easy – I know! – it's really sticky.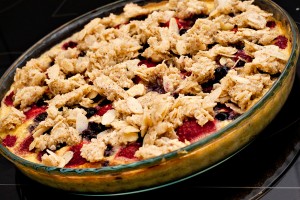 Back into the oven for another 15 minutes. (Oven still on at 180 C (350 F) The topping should have some nice golden color when done.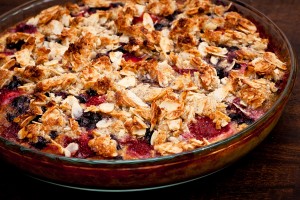 You could serve with whipped cream, quark mixed with honey and vanilla or mascarpone with honey and vanilla – but it works on it's own as well. Have to admit – we had this for lunch last Thursday, and again for breakfast last Sunday. And I might make a tradition out of that! 🙂
Enjoy!
Liesel
Scandinavian Tosca Berry Pie