Making our favorite sunshine pancakes on a weekly basis it got me thinking that the carrot base would be perfect for muffins. We all know the classical "carrot cake" often using cinnamon, so with that in mind I made this recipe. Add a few more spices to really get the taste buds going… and we end up with spicy carrot muffins!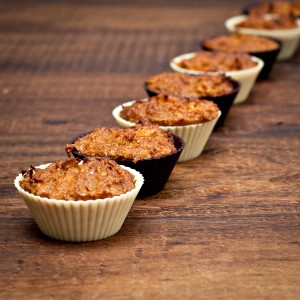 I like using a lot of veggies when baking, and I mean really a lot – as in them being not just a sidekick. So the main ingredient here is really carrot.
Turn the oven on – 180 C (350 F)
Grate carrots. I hade huge ones so I only needed one, but it was almost 300 g (10.6 ounce) and in the end I had something like 375 ml (1½ cup)
In a big bowl:
1 banana – mash (you can leave this out if you are conscious of your sugar intake)
350 – 400 ml grated carrot (1½ cup) / 300 g
5 eggs
1 tbsp vinegar – I use apple cider vinegar
2 tbsp's honey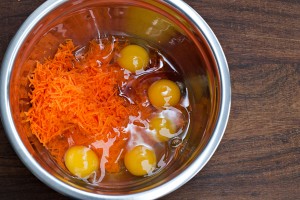 mix – electrical whisk is really convenient.
The dry ingredients – in a smaller bowl or a measure jug:
150 ml (0.6 cup) almond flour – which is ground blanched almonds
100 ml (0.4 cup) shredded coconut – grind first in a small mixer / grinder
2 tbsp's coconut flour
1 teaspoon baking soda OR 2 teaspoons baking powder
1.5 teaspoons cinnamon
1 teaspoon cardamom
½ teaspoon cloves (ground)
stir with a spoon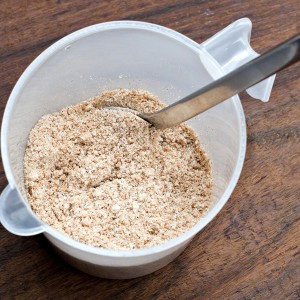 melt 75 g (2.6 ounce) butter or coconut oil.
Now – add the dry ingredients to the wet and do not forget to add also the butter / coconut oil. 
Then mix everything properly and then fill your forms. I did mini muffins since my family loves the bite-sized treats, but bigger ones works fine as well.
Bake in the lower part of the oven for 16-18 minutes – bigger muffins might need a minute or two longer. The carrots somehow make them burn easily, so keep an eye on them!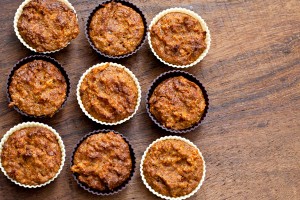 Enjoy
Liesel