I know it's a funny name but this is like a mix between a cake and a cheesecake –  I did these as muffins first actually – and they turned out so great that I made a cake using the same recipe the day after. So either or… But do try them out!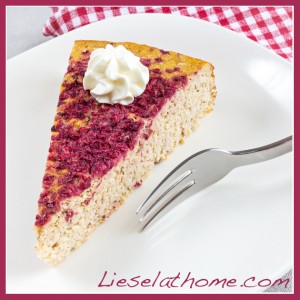 Prepare either a cake form – best to use those where you can remove the bottom part (or the side, depending on how you look at it actually!). I think they are called "springform". Butter it and throw around some ground almond (almond flour) inside. OR – line a baking tray with muffin forms. For best result – use silicon forms. Believe me!
Then turn on the oven – 170 C (340 F) for cake / 180 C (350 F) for muffins
In a big bowl
Mash one and a half banana
Add 75 g (2.7 ounce) coconut oil
100 g (3.5 ounce) quark
150 g (5.3 ounce) Philadelphia crème cheese
1.5 tbsp. honey and
1.5 tbsp. vinegar
Also add 150 g (5.3 ounce) mashed strawberries. We're not in strawberry season here anymore so I use frozen ones. If you live in Luxembourg, our local organic shop sells some lovely tasteful strawberries in 300 g packs – so basically half such a pack. Thaw them first – then mash them or run them quickly through a mixer, before adding.
Whisk with an electrical whisk
Then add the eggs. Now, if you are not a professional egg cracker – you might want to crack the eggs into a separate bowl first to be able to pick out any eggshell parts that might have landed in there, before scooping it over to the other bowl. Believe me – trying to chase a tiny eggshell piece through a bowl of cheese-quark-banana-oil is messy! I might have done just that….
Anyways – add 6 eggs and whisk again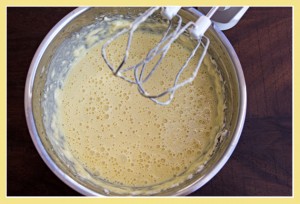 Then leave it for now and mix the dry ingredients in a separate bowl:
150 ml (0.6 cup) almond flour – basically ground, blanched almonds.
4,5 tbsp's coconut flour
1,5 teaspoon baking powder
and almost one teaspoon vanilla powder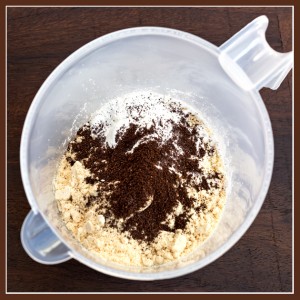 Stir with a spoon and add the dry to the wet and mix thoroughly.
Fill your form(s) and then get some frozen raspberries, something like half a cup (125 ml) and run these (FROZEN) in a mixer. We want crumbles – not jam… Sprinkle the raspberry crumbles over the cheesecake batch,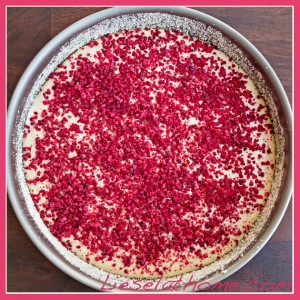 and bake in the middle of the oven for 35 minutes (cake) – OR 20-25 minutes (muffins).
Looks kind of sweet with a dollop of whipped cream on, or maybe you can serve with some fresh fruit or berries?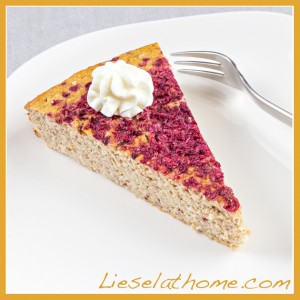 Enjoy,
Liesel
Strawberry cheesecake-cake