Often when I make a new recipe, I ask my kids – "what should we call it?" and they come up with various interesting suggestions. This time however the name was in my head before the cake was even done, because it hit me that this is almost a tosca berry pie – but upside down 🙂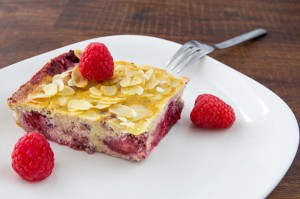 Turn the oven to 180 C (350 F).
Put frozen berries in an ovenproof form. Place them in the oven that is warming up, to thaw them.(If you have fresh berries do the same but skip the thawing in the oven part obviously)
I had 300 g (2/3 pound) strawberries and
About 100 g (about ¼ pound) raspberries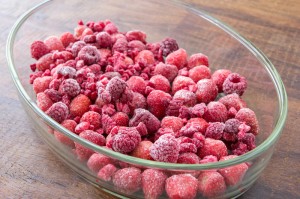 In a big bowl mix the following
2 (ripe) bananas
4 eggs
100 ml (0.4 cup) shredded coconut (grind in a mixer first to make it finer)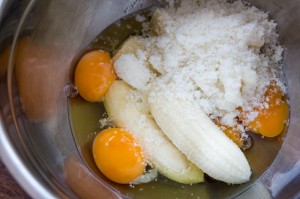 I use an electrical whisk to both mash the bananas and mix everything. Have to admit though that this is easier if you mash the bananas before you add the rest… It has a tendency to end up all over the kitchen otherwise, I learned after taking this picture….
Once the berries are warming up, add:
50 g or 3 tbsp's coconut oil and
50 ml or 3 tbsp's chia seeds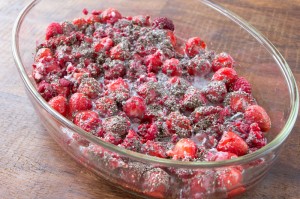 and mix around a bit with a spoon. If the oil gets hard the berries are still a bit frozen (like mine on the pic) – then just put them back into the oven for a while longer, or ignore and just continue…
Now add the banana mix to the berries and stir around a little bit with a spoon – but don't totally mix it or you'll mess up the name of the cake.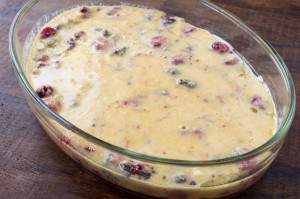 Possibly sprinkle a bit of sliced almonds over the whole thing and then put the cake in the oven and bake for a good 30 minutes. (Leave out the almonds if you want this to be nut free… They are more of a decoration thing anyway)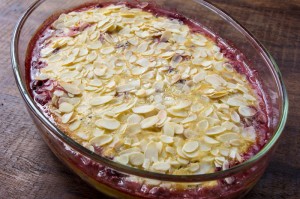 This cake is lovely warm, but even better if you just wait a bit and let it cool down. If you want to be able to "cut" it, you should even let it get fridge cold – which is my recommendation anyway.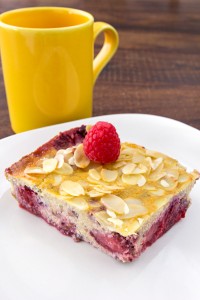 The way I see it – this is basically a fruit salad with added eggs and coconut (oil and shredded). If that is not healthy – then I don't know what is… 🙂
Enjoy!
Liesel