Yesterday when I woke up, it was raining heavily so to hold on to that last bit of summer feeling, I spontaneously made some lovely vanilla and berry muffins and tempted you with a picture. I promised the recipe, so here it comes!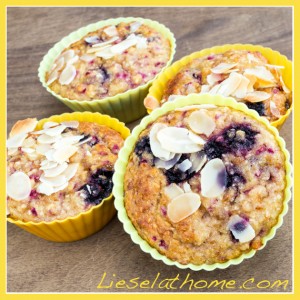 Turn the oven on to 180 C (350 F) and prepare the baking tray with muffin forms.
Get the big bowl out and add the following:
1 banana, mash it
4 eggs
1 tbsp honey
1 tbsp vinegar
and 100 g coconut oil OR butter – melt first.
Mix that with an electrical whisk
Then get a smaller bowl for separately mixing the dry ingredients:
100 g (0.4 cup) almond flour
100 g (0.4 cup) shredded coconut
Grind the shredded coconut first in a small mixer / grinder together with 3 or 4 dried apricots or pitted dried dates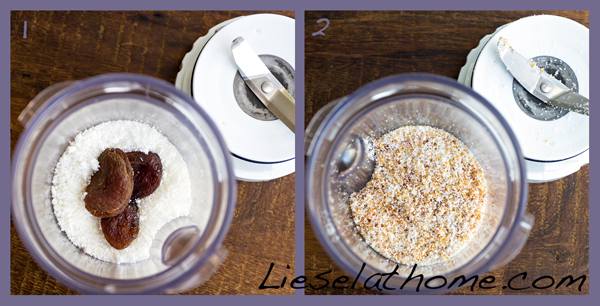 like the picture above… and then keep adding:
2 tbsp's coconut flour
1 teaspoon baking powder
and half a teaspoon of vanilla – or vanilla essence
Now stir with a spoon and then add the dry ingredients to the wet
Then add, directly from freezer, a scoop (maybe 100 ml / 0.4 cup) of blueberries and also a big scoop (maybe 150 ml / 0.6 cup) of raspberries. Now, the raspberries are somewhat big to mix into muffins so I normally run them (FROZEN) for a few seconds in the grinder, before adding them to the muffin batch.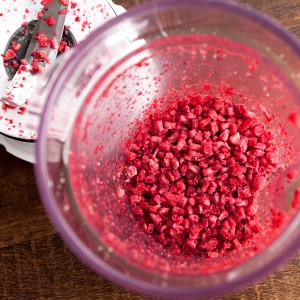 Ok – then give it a quick stir again and fill your muffin forms.
Bake in the middle of the oven for 18 minutes if the forms are tiny – up to 25 minutes if you are using the bigger (normal sized) muffin forms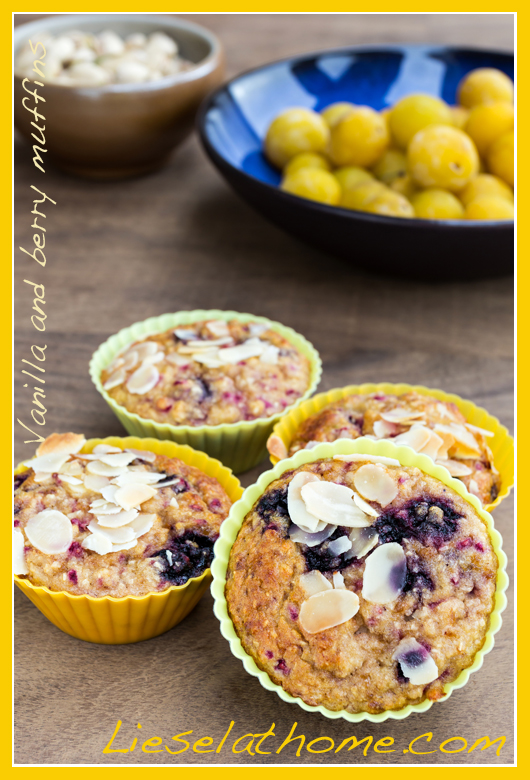 Enjoy!
Liesel
Vanilla raspberry-blueberry muffins