First of all – do we even need a reason? Personally I think that chocolate goes with pretty much anything, so, for me, dipping fresh fruits or berries into a melted version of it is a perfect way to end a meal.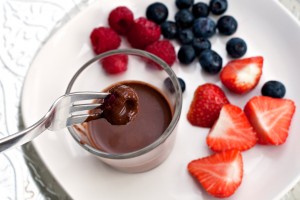 If you need a reason – here you have 5 (+1) in one go:
Easy to make – contains only basic ingredients, takes only a few minutes to prepare. And it's very hard to fail – even if you are not a skilled cook.
Food that activates the guests (or even just your family) is always thankful and makes for a conversation.
Healthy. Yes – I think we can actually claim this to be a healthy dessert if you use a very dark chocolate… (85% or higher).
Tasty! I can't believe I put this as no 4 – when that is actually my personal no 1 reason….
And last but not least – it looks so appetizing! Colorful and inviting with very little effort.
Number six is a just big bonus reason… It's gluten free and lactos free…
This is how you do it:
Over low heat, let dark quality chocolate melt in coconut milk. Use about 30 g (1 ounce) chocolate and 30 ml (2 tbsp's) coconut milk per portion… Stir to keep it melting evenly and not to burn…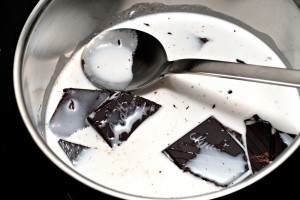 Pour the chocolate fondue into small individual bowls or small glasses. (I use the cheap IKEA tea light candle holders)
Add some fresh fruit and / or berries. Pictured are strawberries, raspberries and blueberries, but pineapple, mandarine orange, apple, banana – anything really goes.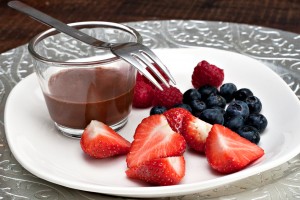 Serve with a small fork for easy eating.
Enjoy!
Liesel
5+1 reasons to make chocolate fondue