I love cheesecake, and I love brownies – and I adore the genius idea of combining the two into "cheesecake brownies".  The concept was already there – It was just a matter of adjusting this idea to better fit a healthy lifestyle. We'll give it a go!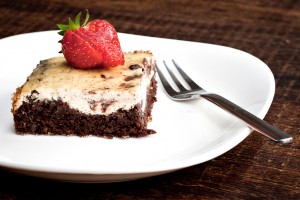 As a base I used the Brown Sticky Cake only taking less dates for sweetness, since the cream cheese topping is sweet too and also I left out the chopped nuts. I'll run you through the recipe again so we have the complete cake in one place!
Start by preparing the baking form you want to use. I have a square 20x20cm (7.9×7.9  Inch) form where you can lift out the bottom – which is perfect for this kind of baking – but use whatever form you have. Size should be around the same though – or you have to adjust the amount of the ingredients. I used butter and a mix of ground flax seeds and shredded coconut today – simply because I had some left over – to line the inside.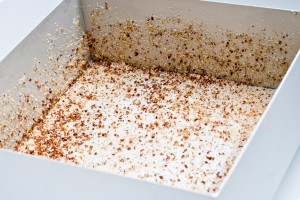 Then, finely mix (in a mixer or grinder) 100 ml (0.4 cup) flax seeds (that's also called linseeds) and 100 ml (0.4 cup) shredded coconut together with 8 dates. If you have a small mixer, like I have, do this in two portions. Half the dates with the flax seeds, and the other half with the shredded coconut. Or, you know, the other way around if you want to…
Empty the mixed flax, coconut and dates into a big bowl and add the other dry ingredients
2 tbsp coconut flour
1 teaspoon baking powder
4 tbsp cacao powder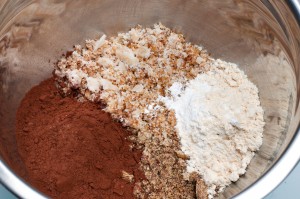 and mix them all together with a spoon or fork.
Melt 50 g (0.1 lb) butter or ghee or coconut oil (easy in a small bowl or glass in the microwave oven, or in a pot on the stove – which is still "easy" but you'll have more dishes to do….)
Now is also a good time to turn on the oven – 180 C (350 F). And let's give ourselvs a pat on the shoulder for not forgetting to do that!
In another bowl,
mash one banana
add 2 eggs and whisk
And leave that to the side for now.
Before we finish mixing the brownie batter – we're going to do the cheesecake batter. This is easy, so no worries. Get yet another bowl out and add this
150 g (about 5 ounce) Philadelphia crème cheese
150 g (about 5 ounce) Mascarpone (although you could skip this and JUST use double amount of the Philadelphia crème cheese….)
1 egg
1.5 tbsp's honey
½ teaspoon vanilla powder (or the inside of a vanilla bean)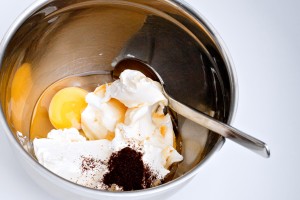 Now use an electrical whisk to mix that to a smooth creamy batter.
Back to the brownie part… Mix the banana-egg with the dry ingredients and the melted butter. Then spread this evenly in your form.
On top of the brownie batter, spread the cheesecake batter. And now you're supposed to twirl. Eh…. not yourself – the batter! Take a fork and carefully, through dipping and twirling it, mix the two batters A LITTLE!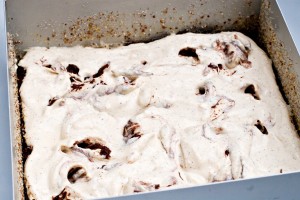 I'm sure you can do a better job than me, but this was ok too.
Bake in the lower part of the oven for about 30 minutes.
I know it's tempting, but please let the cake cool down completely before serving. (It's worth it!) Actually, storing it in the fridge for at least an hour or two makes this cake even better.
You'll have about 9 pieces  – or for a party, cut them small and make 36 mini pieces. Looks great and is ideal if you are around health conscious people – or children, or actually anyone who might like a treat but is happy with a bite-sized one (or two, or three….).
Sometimes a small piece is the perfect amount….
Happy twirling – both yourself and the cake! 🙂
Liesel
The genius combination of Cheesecake and Brownies