Pancakes, Muffins, scrambled eggs, grilled vegetables – I love breakfast! I wrote a post about it before and I decided it was time to do another one. If you've had toast, muesli or porridge as a first meal all your life, it can be tricky to come up with healthy alternatives at first. But let me assure you – breakfast can be both nutritious and delicious. And a lovely way to wake up!

Monday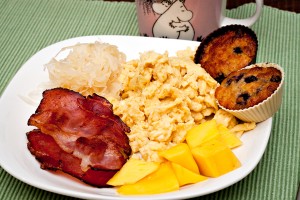 I made scrambled eggs and bacon and served it with sauerkraut, mango and blueberry-lemon muffins
Tuesday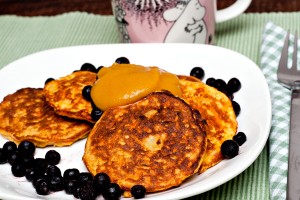 Sunshine pancakes (or actually "carrot pancakes" but they look so sunny that I think I will re-name them) with blueberries and an apple-mango fruit-spread that our local organic shop sells.
Wednesday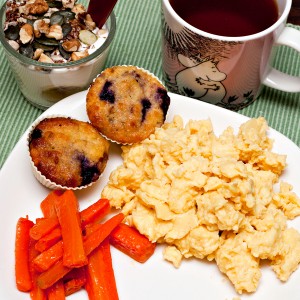 Scrambled eggs and left over grilled carrots (with parmesan cheese – mmm!) from last night, blueberry-lemon muffins (new batch – they were that popular) and a small fruit salad with yoghurt and nuts/seeds
Thursday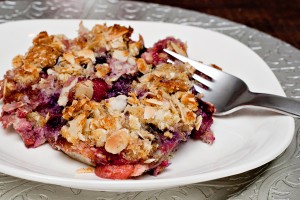 Tosca berry pie. Awesome! Warm berries in the morning just make me smile!
Friday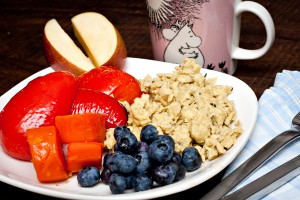 Scrambled eggs spiced with tarragon (estragon (D)/dragon (S)) – that was quite nice actually!, grilled bell pepper and carrots, blueberries and some apple slices. I think this was my favorite breakfast. I'm in love with grilled bell peppers!
Saturday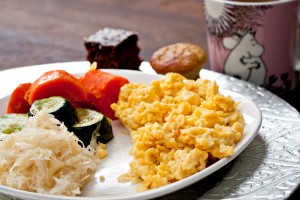 Scrambled eggs spiced with ginger and chili (favorite!), again – left over grilled carrots and zucchini, sauerkraut, banana-vanilla muffin (haven't posted the recipe yet – but will, I promise) and a bite sized piece of the beetroot chocolate cake (or two, to be honest… maybe it was even three….).
Sunday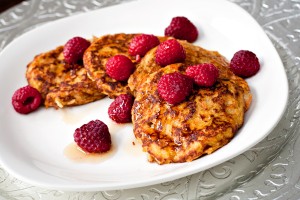 Apple and carrot pancakes with raspberries. Just follow the recipe for the sunshine pancakes and add one or two grated apples and some cinnamon. They were really nice, but we agreed that the original recipe is still our favorite. And yes – I had a drizzle of maple syrup over them. It was Sunday after all! 🙂
 That was our week! I can really recommend you to try different spices in the scrambled eggs. It's a nice variation. And also – if you boil or grill more vegetables than needed for dinner the night before, you have a quick and yummy addition to your breakfast the next morning. I normally just drizzle them with some oil and quickly grill them in my oven to heat them up – or just throw them in the pan before scrambling the eggs…
More inspiration on my other breakfast blog post.
Enjoy!
Liesel