In Sweden there is an expression, saying that a "loved child has many names" – and this is a good example. The cake I'm referring to as "snoddas" is also called mockarutor (mocha squares), kärleksmums (love yummy) or kokosrutor (coconut squares) just to mention a few. And my finnish friends around the world probably has a few more names for it too since it's an equally popular cake over there.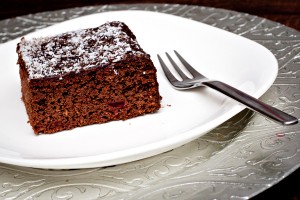 This version starts with beetroots. Since the "amazing red beetroot cake" is the most popular cake I have ever made, I had that one on my mind when coming up with this one. We're aiming for 400 g (0.9 lb) of the beetroot before it is peeled but it's really a plus, minus 100 g here so don't be too concerned about getting the exact amount.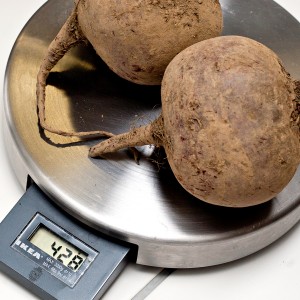 Start by peeling the beetroot(s) and cutting them into small pieces.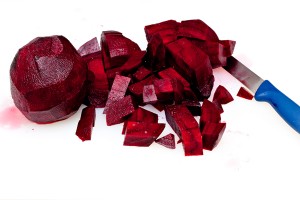 Boil in either apple juice or water (depending on how conscious you are of your sugar intake).  Just a small amount of fluid is needed, not even covering the beetroot pieces – maybe two thirds covered…
Add salt and let boil for 30 minutes.
Meanwhile, organize your spice rack, scrub your sink or just daydream for about 25 minutes – and then, turn on the oven – 170 C (340 F)
Also prepare your form. Butter and ground flaxseeds or ground nuts will do the job. I use a square 20×20 cm (7.9×7.9 inch) form, where you can lift out the bottom. Aim for similar size.
Then – in a big bowl:
1 banana – mash
4 eggs
2 tbsp's honey (or less…)
1 tbsp vinegar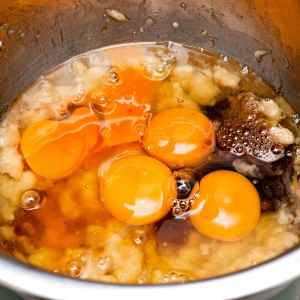 whisk – the electrical one is my every day hero!
Then to the dry ingredients. In a smaller bowl or a measuring jug:
150 ml (0.6 cup) shredded coconut, grind first in a small mixer / grinder
100 ml (0.4 cup) almond flour, which is just ground blanched almonds
2 tbsp's coconut flour
4 tbsp's cacao powder
2 teaspoons baking powder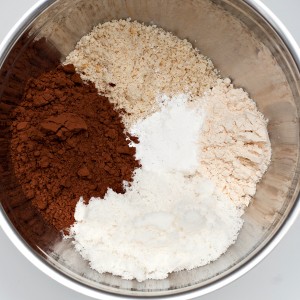 I did the cake twice in two days. (what can I say – we liked it!) And in one batch I used ground hazelnuts instead of the shredded coconut. If you can't eat coconut – substitute with that AND add another 50 ml of the almond flour as well instead of the coconut flour – so 150 ml of each nut flour, in that case.
Stir the dry's with a spoon to mix them.
By now the beetroot should be done. Drain the beautiful fluid into a small glass jar and keep to use as natural food coloring. To the drained beetroot pieces add 50 g (1.8 ounce – about 3 tbsp's) of either butter or coconut oil. (I've tried both) and them mash them. A hand mixer does an excellent job, not only in making a puree – but also in giving you and your kitchen some colorful spots (so be careful).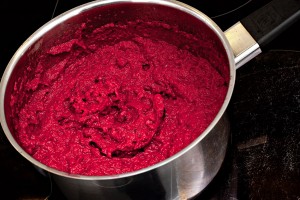 Then add the mash to the eggs and whisk, and then add the dry ingredients. Wonderful colors!!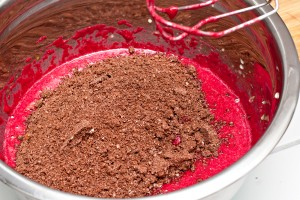 Mix, fill your form and bake in the lower part of the oven for about 35 minutes.
This cake is wonderful just like this – without the dark chocolate butter topping (maybe just with a spoon of whipped cream? Mmmmm….)
But still, after all, dark chocolate and butter topping… You know you want it! 🙂
So this is how you do it:
Melt 50 g (about 3 tbsp's) butter in a pot.
Add 40 g (1.4 ounce) of your favorite dark chocolate and let it melt on LOW heat. (Luxembourgers – Naturata has a great 85% one from India under their own brand name. Just a tip. Pricey, yes, but absolutely marvelous)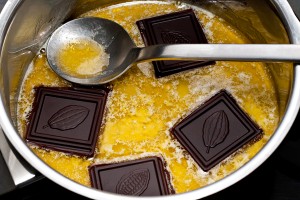 Then add
½ – 1 tbsp honey
½ teaspoon vanilla powder
½ – 1 teaspoon instant coffee powder – taste after 1/2 teaspoon and see….
Stir until the coffee is completely dissolved.
Once cake is cooled down – pour / spread the chocolate coffee topping over it. Leave to cool down a bit in the fridge before you sprinkle the shredded coconut over it (or they will just "drown" – done that!)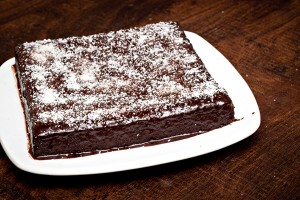 OK – now I can confess. This does not really taste like the "snoddas" cake I mentioned in the beginning. It just looks similar. This one, tastes way better! 🙂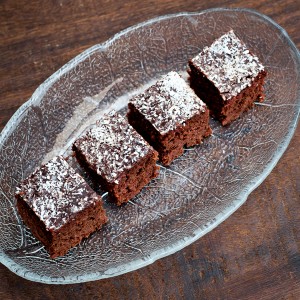 makes 9 big pices, or 36 lovely bite-sized pieces like the 4 above (that we had for breakfast this morning)
Enjoy!
Liesel
Beetroots and chocolate meets snoddas