Dear Mr. Easter Bunny,
How about, I bake you a lovely and healthy carrot cake – and you bring us some dark chocolate eggs this year? We'd like to stay clear of the sugar laden colorful stuff, and just go with the natural goodness that doesn't contain any E-numbers or mess up our blood sugar. Do we have a deal?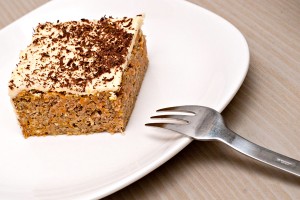 Did you try the spicy carrot muffins I made last week? They are really lovely, and yesterday we made a cake using the very same recipe! This is perfect for eastern! Or any time of the year really. Cake should be part of the food pyramid! 🙂
To make the cake – follow the recipe of the spicey carrot muffins (click the link) I used a bit more carrots then the recipe suggests, and even added some grated pumpkin (butternut squash). Be creative with what you have!
Bake in the lower part of the oven – 170 C (340 F) for about 35 minutes.
I used a cake form that is square – 20×20 cm (7.9×7.9 inch).
To make the topping – there are several options, but the one I chose yesterday was half butter, half Philadelphia crème cheese and then lemon. Like this:
 150 g (5.3 ounce) room tempered butter
150 g (5.3 ounce) Philadelphia crème cheese
the peel of one lemon
the juice of half a lemon (little by little – and taste to see when it's enough)
Honey for sweetness (again, taste to see how much is needed. I used about one tbsp honey)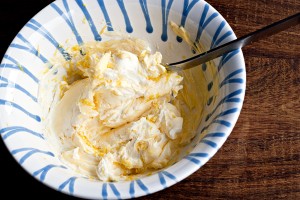 Stir until totally mixed.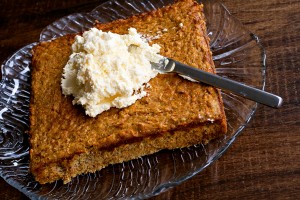 Spread on your cake, all around it.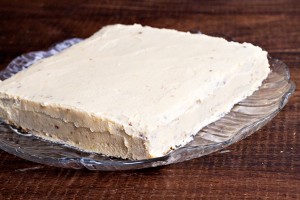 If you feel crafty you can decorate it. Walnuts halves looks great on it, or grate some dark chocolate. I quickly cut out a flower using the paper that the chocolate was wrapped in – and placing it on the cake, grated the chocolate over it. Leaving me a stencil flower when removing the pieces.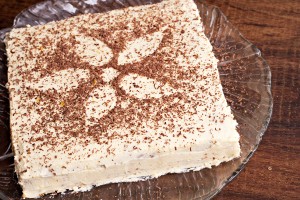 And as always – we love the bite-sized little pieces. One cake makes 36 of these little goodies and is perfect for an afternoon tea since they won't leave you overly filled.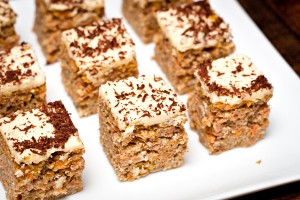 Enjoy!
Liesel
A carrot cake for the Easter Bunny