There is a little monster living inside of me, demanding chocolate on pretty much a daily basis. This does not mean the sugar-laden milk chocolate. The monster does not actually fancy this any more, but rather anything with cacao in it. Really dark chocolate normally helps but sometimes the monster wants cookies or crackers. Last week I had one of those days… So I came up with these very chocolaty crackers. Nut free, gluten free, lactose free, egg free and (almost) guilt free! Can it get any better? 🙂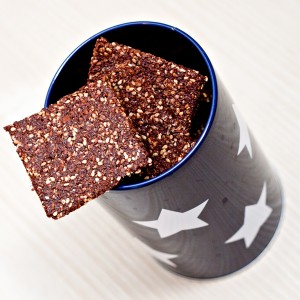 Start with some coconut oil. My kitchen was really warm from the spring sun shining right in there, so my oil was a fluid. That made the mixing quite easy. If your oil is too hard, start with heating it up slightly.
In a big bowl:
 3 tbsp's coconut oil
3 generous tbsp's cacao powder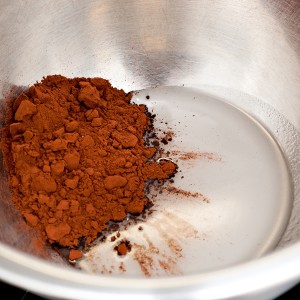 That looks so tasty right there…. But keep adding:
200 ml (0.8 cup) shredded coconut – mixed (ground) first together with 5 dried apricots
100 ml (0.4 cup) sesame seeds – also slightly grind them in the mixer first
a pinch of salt (brings out the cacao taste)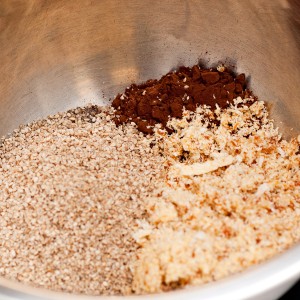 stir all of it together with a spoon. I then added a bit of honey – less than a tablespoon – to make the dough stickier. You could add more if you want them sweeter, or less, and add water instead if you want them less sweet. (The apricots adds sweetness as well).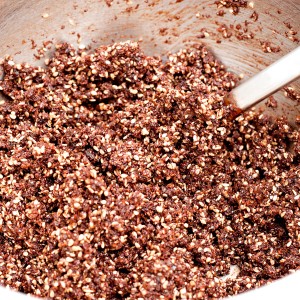 Now, once mixed, turn the oven on – to 150 C (300 F)
Then spread the (crumbly) dough on a baking sheet and, using two parchment papers – one underneath and one over the dough, roll it thin with a baking roll or a glass bottle.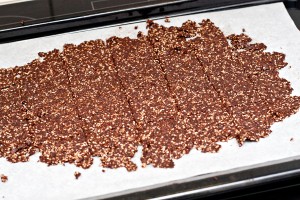 Cut into squares – a pizza cutter is a great tool for this. I'm going to re-name mine to "cracker-cutter"!
Bake in the lower part of the oven for 15 minutes, then turn the oven off – leaving the door slightly open (wooden spoon in the crack) and leave it for another 5 minutes. Take out and let them cool completely before you crack the pieces apart.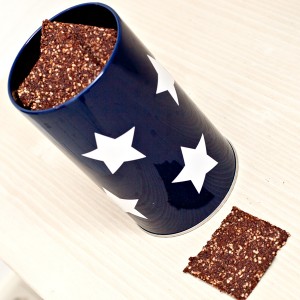 Enjoy!
Liesel
Monster chocolate crackers