You know what a cinnamon bun is, right? But, have you ever had a camel bun? Probably not. Me neither. The thing is, that the Swedish word for cinnamon is kanel, and the Swedish word for camel is kamel. Hard to keep apart, small Swedish kids will often call a cinnamon bun (kanelbulle) – a "camel bun" (kamelbulle) Even these days – whenever I bake with cinnamon, I think of camels 🙂 So here are my new "camel muffins" with Zwetschgen.
Of course there's a story behind "Zwetschgen" (which is the german word for plum) as well, but we'll start baking now, and I'll tell you later.
Get a pot, your big bowl, the electrical whisk and your (or your kind neighbors) mixer / grinder.
Start by taking a piece of pumpkin, peal it and cut it into pieces. Put them in a pot and boil in salted water for about 8 minutes – until soft. My piece weighed 320 g (0.7 lb)  – but of course a lot less after peal and seeds were gone…
Actually – we should have started by turning the oven on to 180 C (350 F) – but ok, just do than now then.
Now that's done – To the bowl add
1 banana – mash it
4 eggs
1 tbsp vinegar, I used a dark balsamico – but use what you have. Vinegar will help the baking powder to react and rise.
1 – 2 tbsp's honey
mix with the electrical whisk
When it comes to the dry ingredients – it's not so important that you use the exact proportions. Take more or less of the different parts as long as the end amount is about the same. Spices excepted from that rule, and come to think of it – baking powder too.
100 ml (0.4 cup) sunflower seeds – grind this to a fine powder before adding
100 ml (0.4 cup) flaxseeds  (linseeds) – also this needs to be grinded to a fine powder
150 ml (0.6 cup) almond flour – this is basically ground blanched almonds
3 tbsp coconut flour
2 teaspoons baking powder
1.5 teaspoons cinnamon (powder)
½ teaspoon cloves (powder) – optional
put it all in a bowl an and mix it.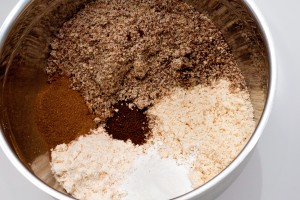 OK so the story of the "Zwetschgen"… (try pronounce that!)
In my early days in Germany I was offered a Zwetschgendatschi by a friend. Me, at the time not knowing much german, and definitely not understanding this long and complicated word asked what that was – and my friend looked at me, like I was stupid, and answered "It's Datschi with Zwetschgen!" Well, obviously… But not helpful! 🙂
Now I know that Datschi is a kind of cake you make in a pan, and Zwetschgen – as I mentioned earlier are plums.
So, we need plums for these muffins. I bought frozen ones, already halved and without the stone. I then cut the halves in half again so I had quarters… If you don't have plums – you could use apple pieces just as well. Anyway – prepare the fruit you choose to use, and put it to side for a few minutes.
I'd say those 8 minutes are up and your pumpkin is ready, so drain the water and add 50 g (0.1 lb) butter.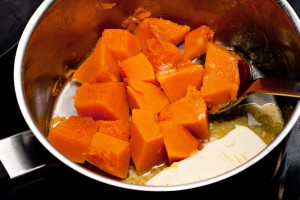 Let the butter melt a bit and then mash it all to a creamy yellow mash. I use a hand mixer for this – but if you don't have one – just take a fork. Add the mash to the eggs – and whisk.
Then also add the dry ingredients and give it another go with the electrical whisk. If this is now too runny (loose) you can add some more almond flour or ground sunflower seeds or something else of the above dry ingredients.
Time to fill muffin forms – about ¾ high – and add a piece of plum to each. I use silicon forms. They are simply great to work with – and non-stick. But use what you have. This makes about 35 mini muffins (which will probably make 10-12 normal sized ones…)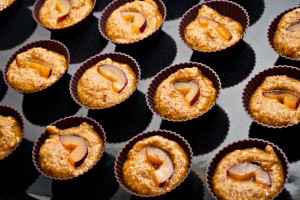 They'll need about 18 minutes in the middle part of the oven, and are delicious warm, and almost just as nice once they cool down.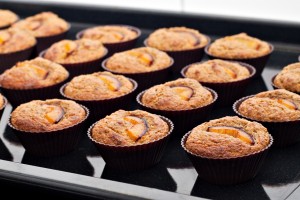 Enjoy!
Liesel
Camel Muffin – and what is Zwetschgen?