Servus!
(Which is "Hello" in Bavaria – the south part of Germany)
If you know anything about the German kitchen, you probably heard about Schnitzel! It's a quick, tasty and normally not Paleo – or LCHF – or whatever you call your lifestyle – because of the breadcrumbs you'd use. However – who says we can't substitute them?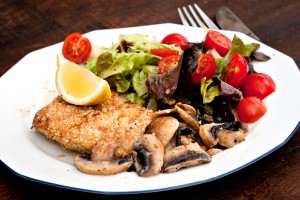 This was what I had for lunch today – and it seriously took me less then 10 minutes to cook. I'll give you a quick guide to it!
Heat up a pan with some (or rather a lot!) coconut oil. If your cooker is as slow as mine – you better turn it on now…. The pan should be hot!
Now – what can we use instead of breadcrumbs? Probably a lot of things, but my preferred version is ½ shredded coconut and ½ sesame seeds. I mix them a bit in my grinder to make it more like flour. Then spread it on a plate. For two average sized Schnitzel I used about 3 tbsp's of each..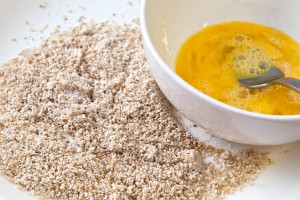 You also need 1 egg. Crack it into a small bowl or plate and whisk quickly with a fork. I like to add some salt and chili powder to the egg for taste…
Now dip your Schnitzel (that's "escalope" btw if you haven't heard the German word before) in the egg first, both sides, and then dip it in the coconut-sesame crumbs – again both sides. Then put it into the pan to fry.
Give it a few minutes on each side, and meanwhile make a small salad or similar as a side dish.
I like to add a few sliced mushrooms to the pan in the end and let them fry for something like the last 2 minutes.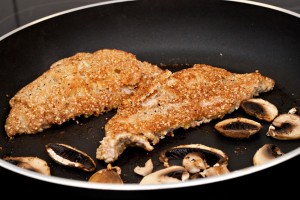 When the Schnitzel is done – take it out of the pan (I'd say – put it on your plate) and leave the mushrooms still in the pan. Add a bit of coconut milk (or cream) and just let it heat up – and you have a "sauce". Add the mushroom sauce to your plate and a slice of lemon.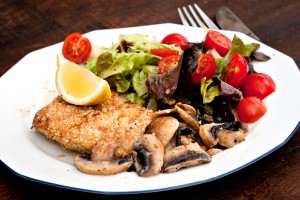 Quick, healthy and delicious!
Liesel
The quick 10-minute, healthy lifestyle, Schnitzel