This is a version of the classic banana pancake. Just as quick and easy to make!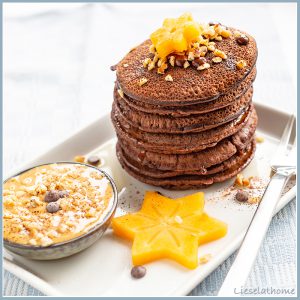 For two portions, in a bowl:
1 banana
4 eggs
2 tbsp. buckwheat flour
2 tbsp. cacao powder (or more if you want them even more intense chocolatey)
a pinch of salt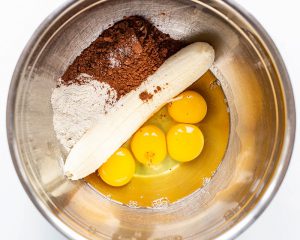 Mix all using a hand held mixer. If you don't have one, first mash the banana and then add the rest and whisk.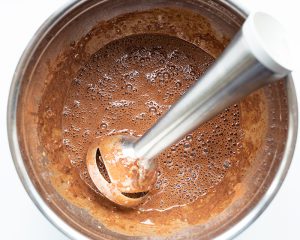 Fry on low to medium heat in coconut oil. I have a special pancake iron and this makes about 14 pancakes. If you don't have one just fry in a normal pan.
Serve with nut butter, maple syrup, jag, fruit, berries or whatever you have available.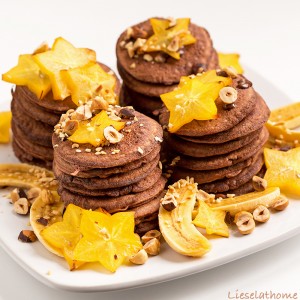 Above was a double batch on a Sunday morning with the family. Served with star fruit, mini bananas and roasted nuts.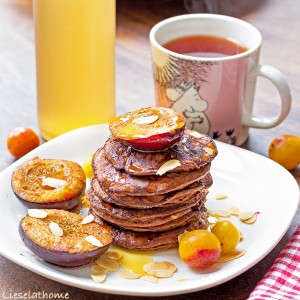 Here served with oven baked cinnamon plums, and roasted almonds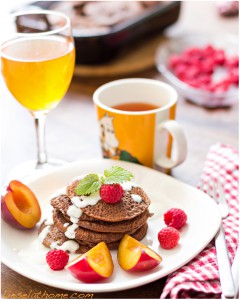 Served with fresh fruit and yogurt.
And finally a pic of a double batch chocolate banana pancake fried whole for a couple of minutes in a cast iron skillet and then baked in the oven to finish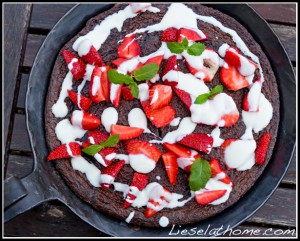 topped with fresh strawberries and yogurt mixed with a little honey and a squeeze of orange.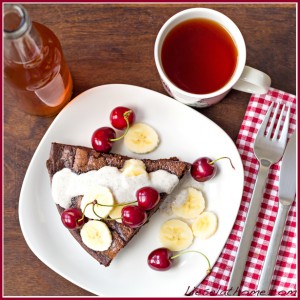 slice, with banana, cherries and yogurt.
Be creative – and enjoy!
Liesel
Chocolate banana pancakes