Saffron is a lovely ingredient to use to spice up the classic banana pancake. The color and the taste pairs well with orange so I add that too in this recipe.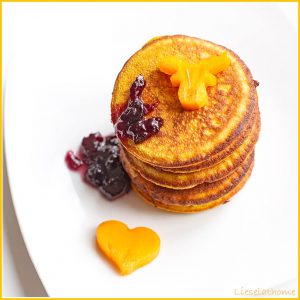 This batch makes 4 portions. Start by grating the zest (peel) of one orange and pressing the juice of half of that orange into a bowl, then add saffron and all the other ingredients.
Zest of one (organic) orange and juice of half the orange
0.5 g Saffron
2 bananas
8 eggs
200 ml (0.8 cup) buckwheat flour
pinch of salt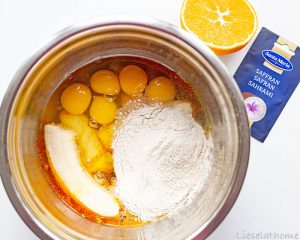 Mix everything using a hand held blender / mixer. If you don't have one, mash the bananas first, then add everything else and whisk.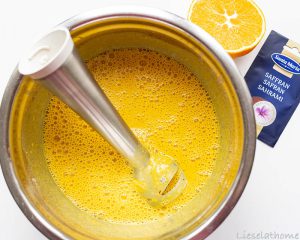 I use a Swedish brand of saffron here – Santa Maria – (no cooperation) because for some reason Saffron in Sweden is of high quality and a lot cheaper than in Germany. When I buy in Germany I prefer the Saffron from Rewe – their own brand.
Anyway – fry in coconut oil over medium heat. I have a special pancake pan for this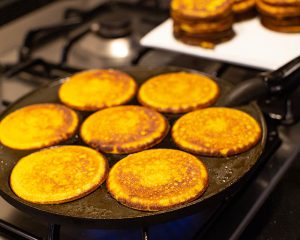 Serve with berries, jam, nut butter, fresh fruit… or whatever you have at home.
…But of course you can also fry the pancakes in a normal pan. Or – if you are lucky to have a cast iron skillet, you can pour the whole batch into that. Fry for a couple of minutes and then finish off by baking in a hot oven for about 20 minutes. (I like to sprinkle some almonds over before baking)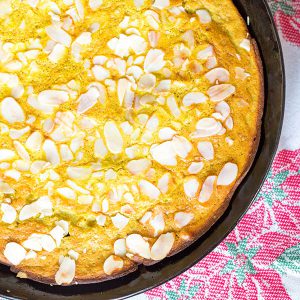 Enjoy!
Liesel