I'll show you how to make a lovely Christmas version of low carb muesli – inspired by the Swedish Christmas cookie called "pepparkaka". Translated, this actually means "pepper cookie" which sound horrible – I know – but the name comes from all the spices that you'd use baking them (there is no actual pepper though…) We'll use the same spices for this muesli! So this is it – Christmas in a box! 🙂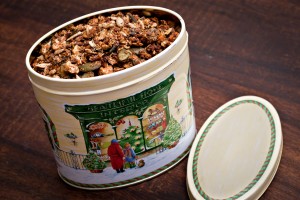 Start by mixing equal amounts of the following in a big bowl:
100 ml sunflower seeds
100 ml flax seeds (also called linseeds)
100 ml shredded coconut
100 ml pumpkin seeds (slightly chopped)
100 ml hazelnuts (slightly chopped)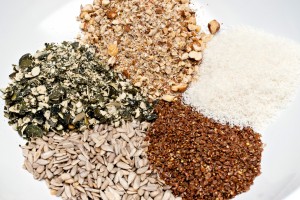 I used 100 ml of each of the above – the amount could just as well be ½ cup (which is 125 ml) if that makes it more convenient for you.
And of course – you can play around with the ingredients, change the hazelnuts to almonds, leave out the coconut and add something else… Be a bit creative if you feel like. Or not, if you don't feel like 🙂
Then add
2 teaspoons cinnamon
1.5 teaspoon ginger (powder)
1.5 teaspoon cloves (powder)
1 teaspoon cardamom (powder)
¼ teaspoon salt
and if you have – 1 teaspoon pomeransskal – now, this is a Swedish spice for baking that I have never found outside of Sweden. It is basically dried citrus peel that is ground to a powder. Well – if you're not Swedish, you likely don't have this (or even ever heard of it), but don't worry – just leave it out in that case! Suggestions for substituts are welcome in the comments…!
Somewhere here we need to turn on the oven – seems like I always forget. You too? Anyway 170 C (340 F)
Then to the mix add
1 generous tbsp honey. Leave out if you want to, or take more if you prefer sweeter muesli.
And 50 ml (1/4 cup if you use cup measuring) tap water
Stir until all is well mixed. Spread on a baking tray (a baking sheet makes the cleaning up quicker…) and bake in the middle part of the oven for about 10 minutes.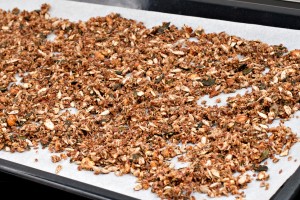 Then turn the oven off, and use a folded tea towel or a wooden spoon to keep the oven door slightly open, and leave it to cool down completely.
Store in an airtight container.
Breakfast will taste like Christmas now, and still be healthy! 🙂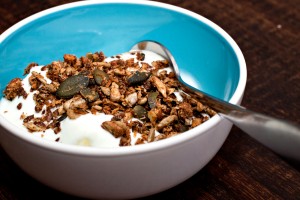 Enjoy!
Liesel
The story about Pepper Cookies and Christmas Muesli