Personally I find every season to be cookie season, but I know Christmas is the time when most people will turn their kitchen into a private bakery. This doesn't mean we have to go crazy and turn our backs to a healthy lifestyle. Here is a tasty cookie, with zero gluten, zero sugar and 100% yummy-factor!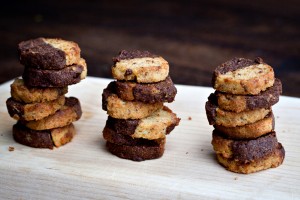 Get a bowl out and an electrical whisk. In the bowl, put:
50 g (0.1 lb)  butter
1 egg
½ tbsp honey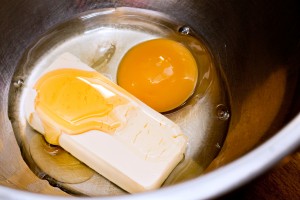 Mix with the electrical whisk. And don't worry if this turns out a little lumpy, that's ok, we'll soon keep working on it.
Moving on to the dry ingredients. You'll need a mixer / grinder for this part and a small bowl.
200 ml shredded coconut
6 dried apricots
mix / grind the shredded coconut and the 6 dried apricots together, and then put this in the bowl.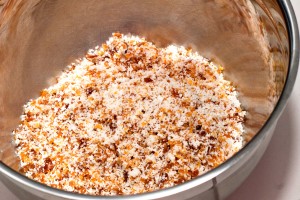 Add ½ teaspoon vanilla powder
And 1 tbsp coconut flour (or if you don't have this – take an additional 50 ml of the shredded coconut above and grind it)
Now you add the dry ingredients to the lumpy egg and butter mix and keep working on it with the electrical whisk. You'll see – now the batter will quickly look a whole lot smoother! No worries! 🙂
When smooth and mixed – divide the batter into two equally big parts and put one part back into the other bowl.
To one bowl (I'll let you choose which…) add
and stir
Then what you do is to take a piece of baking paper and put one of the two cookie batters on it. Spread it out a bit (hint – we're making a roll so "long" is a tip).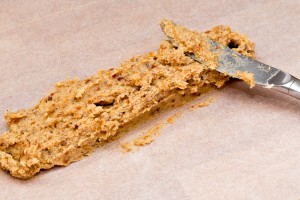 Fold the paper over your cookie batter, tuck it in underneath – over on the other side, so that you can squeeze it to a roll with your fingers without actually touching the batter.
Size – about 20 cm long and 2.5 cm wide – then wrap the paper around it.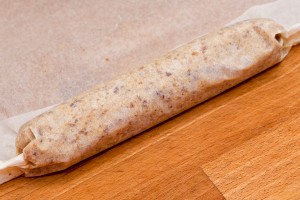 Repeat with the second batter in a separate piece of baking paper. Put them both into the freezer for about 10 minutes.
Take them out, open up the paper rolls and cut right through both rolls lengthwise.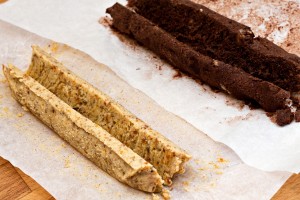 Transfer half the white roll to the black and half the black to the white – putting them together to form a new "whole" roll again.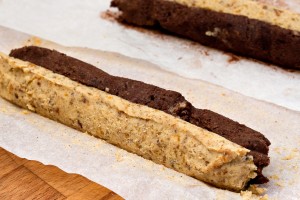 Wrap the paper back around the new rolls and put back into the freezer for about 15 minutes – or longer if you want to – you can even bake them on another day, if you want.
However – If you want your cookies today, now would be a good time to turn on the oven – 160 C (320 F)
After 15 minutes in the freezer, take the rolls out, slice them thinly and put in rows on a baking sheet on a baking tray and bake for 15 minutes.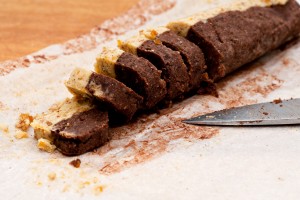 When done – with cookies still inside – turn the oven off and leave the oven door slightly open (wooden spoon in the opening) and leave for another 15 – 20 minutes before you take them out. This makes them a bit dryer and crunchier… If you like moist cookies you can just take them out after the first 15 minutes. Let them cool down completely before storing in an airtight container.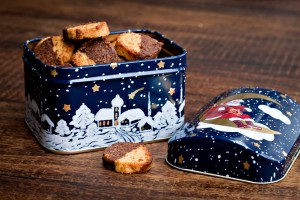 Enjoy!
Liesel