Guess what! I found the secret to really good cookies! Yes!, and I'm as surprised as anyone else might be. It was a coincidence actually.  A Scandinavian company asked me, if I'd like to bake, using their coconut oil. Of course I wanted to do that! And so – instead of using butter, as always before – I used coconut oil when coming up with a few new cookie recipes. Turns out – Coconut oil is actually a perfect match with cookie dough! First out – a chocolate chip cookie: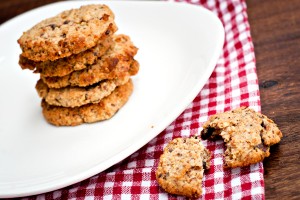 Cookies are mostly easy to make and quick as well. The same goes for these lovely gluten free cookies with chocolate chunks in them.
First – turn the oven on – 170 C (340 F)
Then – make sure your coconut oil is at room temperature. If your kitchen is cold (I used to have an old drafty house in Sweden – me, wearing ski pants and wooly hat while baking was not unusual at winter) you could place the measured coconut oil in a "hot bath" – oil in a glass, glass in a bowl of hot water. If it melts totally – that's ok as well!
So, in a big bowl mix the following:
You'll need about 50 gram (1.8 ounce) coconut oil. (I scooped it into a small glass placed on a weigh scale to measure by weight, but roughly it's about 4 tbsp's).
1 egg
2 tbsp's honey
Use an electrical whisk for easiest mixing.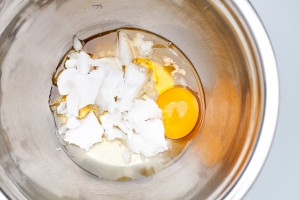 Then – the dry ingredients,
150 ml (0.6 cup) shredded coconut – grind this in a small mixer / grinder together with:
5 dried pitted apricots (grind with the shredded coconut mentioned above)
150 ml (0.6 cup) ground hazelnuts – I make that as well, using the mixer / grinder. Measure AFTER grinding – so don't grind them together with the above ingredients.
2 tbsp's coconut flour
1 teaspoon baking powder
½ teaspoon vanilla
a pinch of salt
Mix with a spoon and then add this to the oil-egg-honey mix.
Lastly add 40 g chopped dark chocolate (or chocolate chips).
Then using a tbsp measuring spoon to get the right amount – spoon little heaps onto a baking sheet on a baking tray, and flatten them with your hand. You should end up with about 20 cookies…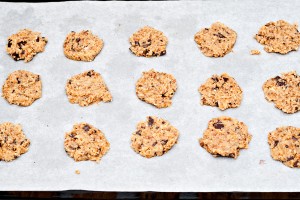 Bake in the lower part of the oven for 12 minutes. Then turn of the heat, and – using a wooden spoon – open up a good gap so the heat can slowly leave the oven. Mine were a perfect crunch after about 20 minutes like this so that's when I took them out.
Enjoy!
Liesel
Coconut oil Chocolate Chip Cookies