The biscotti come from Italy and are pretty famous all over the world. The name origins from Latin and means "twice baked". This double cooking procedure is supposed to make them last very long if stored correct. Well, I must have done something wrong – because mine were gone within a day. 🙂 Yum!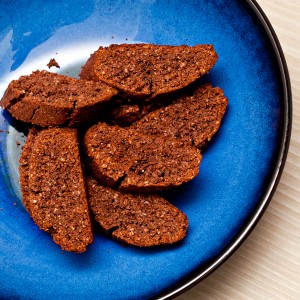 The original recipe does not contain any fat, so we're breaking the rules today – but then on the other hand we will also not add the flour and sugar that the original recipe suggests so I think we are pretty much going wild anyway. The one thing that we will stick to though is the "twice baked"!
Turn the oven on to 170 C (340 F)
In a big bowl
50 g (1.8 ounce – or about 3 tbsp's) coconut oil (room tempered)
1 egg
2 tbsp's honey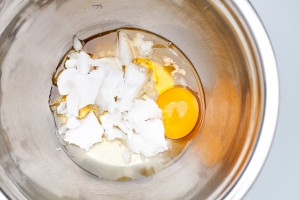 Mix to a cream
In a smaller bowl we'll then mix the dry ingredients
150 ml (0.6 cup) almond flour, which is ground blanched almonds
100 ml (0.4 cup) shredded coconut – grind this first together with
2 dried (pitted) apricots (grind with above shredded coconut)
2 tbsp's coconut flour
2 tbsp's cacao
1 teaspoon baking powder
1 teaspoon instant coffee
½ teaspoon vanilla powder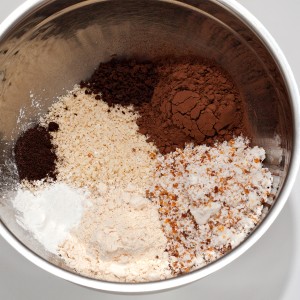 Stir with a spoon and then add the dry ingredients to the wet. Then transfer the dough to a parchment sheet on a baking tray and form a roll. I find this easiest to do using the parchment sheet to roll the dough into it….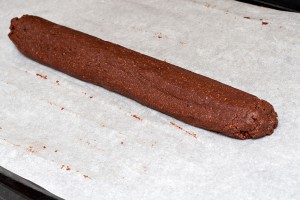 Then bake in the middle part of the oven for 20 minutes.
Once done, take the tray out and leave to cool down for one full hour. Believe me – the cookie roll will totally crumble if you try to cut it while warm. Not worth it! I warned you!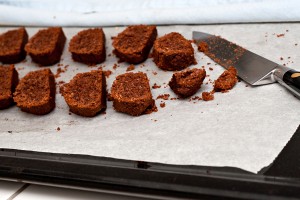 So – an hour later – cut it into slices, kind of sideways… About 1 cm (0.4 inch) wide. It should make about 20-25 slices. Lay them down, spread out, and put them back into the oven. Turn on to 120 C (250 F) and let them bake for 12 – 15 minutes more.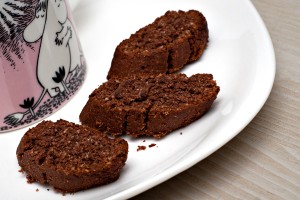 Enjoy!
Liesel
Cacao and coffee biscotti