With so many pumpkins around it's tempting to not just decorate our porches or door steps but also to cook and bake using the colorful and tasty insides of them. This cake was created on a whim – I thought it could be interesting to make a bright yellow cheesecake and combining it with one of my favorite things – chocolate. So a Halloween cheesecake brownie – doesn't that sound tempting?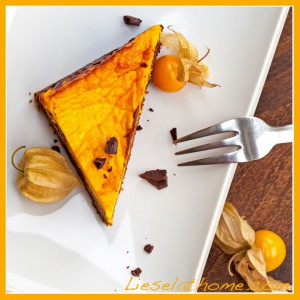 We'll start with the actual pumpkin. I had a Hokkaido pumpkin – one of these small'ish orange ones. And you'll need a half one.
peel, dice and boil half a Hokkaido pumpkin in a little apple juice or water – with some salt – for 15 minutes or until soft.
Meanwhile prepare the wet ingredients for the brownie base in a big bowl:
1 banana – mash it
3 eggs
zest (grated peel) of one orange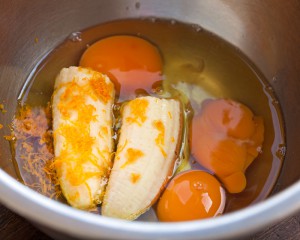 Mix the wet ingredients, and the easiest here is to use a hand held mixer.
Then in a separate bowl prepare the dry ingredients:
100 ml (0.4 cup) shredded coconut mixed first with
4 dried pitted dates (I mix the shredded coconut with the dates in a chopper / mixer until they are just tiny pieces – see pic)
100 ml (0.4 cup) almond flour – which is ground blanched almonds
3 tbsp. cocoa powder
1 teaspoon baking powder
Mix the dry ingredients – just using a plain spoon.
Now the boiling pumpkin should be about done, so drain the fluid and add:
50 g (almost half a stick) butter (or the same amount coconut oil)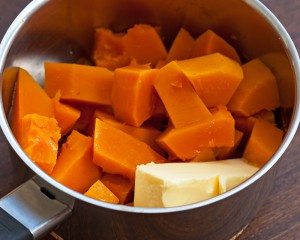 Mash the pumpkin with the fat. Using a hand held mixer is the easiest and quickest but a fork works just fine too.
Add about half the pumpkin puree to the banana egg mix and blend. And also add the mixed dry ingredients and blend. Now we have the brownie batter done!
Fill the brownie batter into your baking form. I use a square form size 20 x 20 cm (7.9 x 7.9 inch), so use something around that size. I line mine first with parchment paper – because I'm lazy when it comes to washing up afterwards….
Turn the oven on – 180 C (360 F) and mix the cheesecake batter in a bowl:
200 g (7 oz.) full fat quark
150 g (5.3 oz.) fresh cream cheese (like for example Philadelphia cheese)
2 tbsp. honey
1 egg
the juice of half an orange (you just used the peel of one earlier – so take the same one!)
and the rest of the pumpkin puree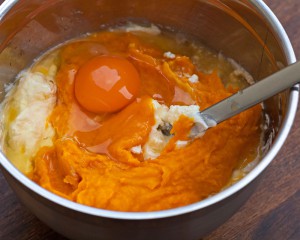 Stir until completely mixed and then spread this over the brownie batter in the form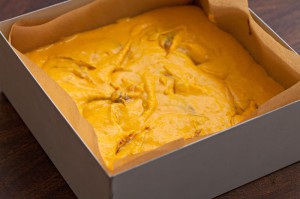 Use a fork to twirl the batter a little just slightly mixing the brownie with the cheesecake.
Now – afterwards – I'm thinking that sprinkling some chopped dark chocolate over the cake would have been a brilliant idea… You could try that – or just leave it like this.
Bake in the lower part of the oven for 60 minutes. If you know your cakes tend to get dark or burned – lower the temperature a little (to 160 / 320 maybe). You have to know your own oven… Or be prepared to cover the cake with a bit of tin foil after half an hour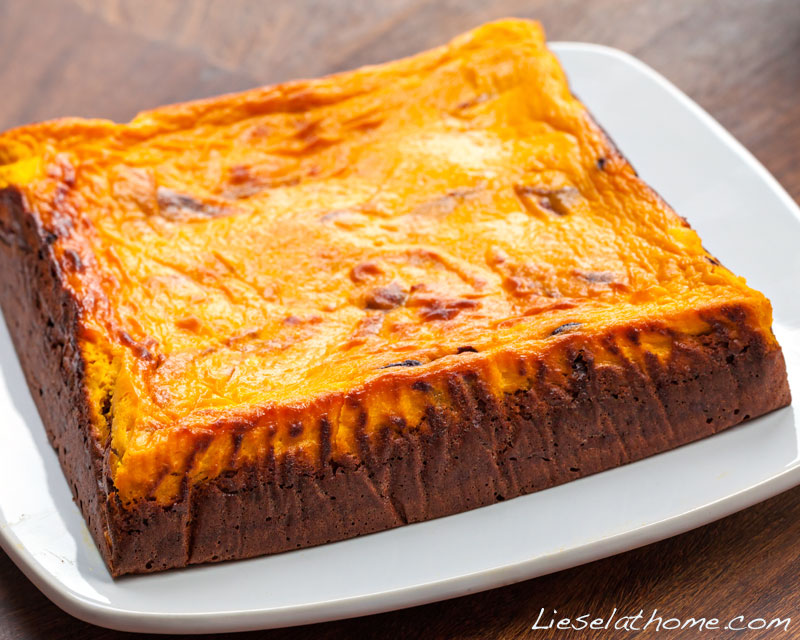 I know it was a bit complicated – but this is what you get in the end so the work is very much worth it!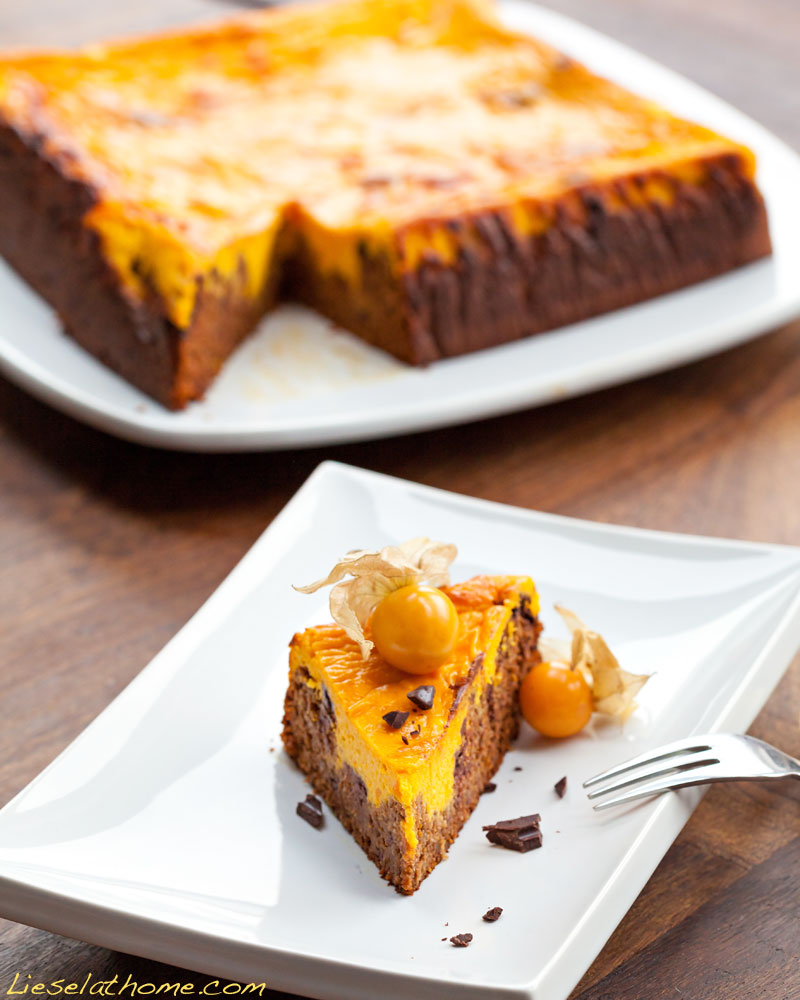 Because of the cheesecake part the cake is very filling. A small piece goes a long way. I got 18 pieces out of it…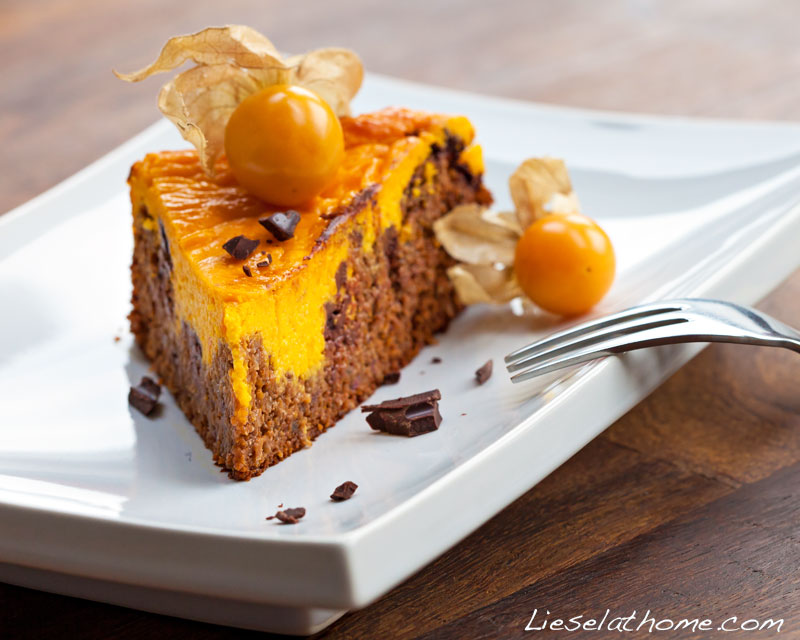 Decorate with a few Physalis or other seasonal fruit / berries – and possibly some chopped dark chocolate.
Enjoy!
Liesel