Ever since I made the flax seed rolls earlier this year I have wanted to make other versions of it. Had a few different ideas that did not work out but now finally, this one is great! The flax seed wrap is spiced with cinnamon, cardamon and clove and the filling is bananas and nuts. We had them for breakfast this morning and I made a new batch as afternoon snack just now. Delicious!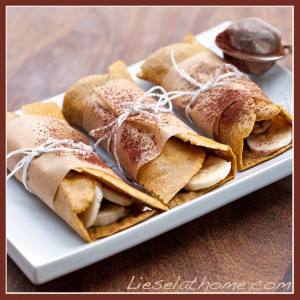 This is not like crepes – and the wraps are actually quite steady to hold so you can eat with your hands. It really just takes about 20 minutes all in all to make – so a perfect, healthy snack.
Turn your oven to 180 C (360 F) and prepare a baking tray with parchment paper.
Start with the dry ingredients for the wraps:
125 ml (1/2 cup) whole flax seeds (golden looks nicest) – grind them to powder and you'll end up with about 200 ml (0.8 cup) ground flax seeds. Important – they need to be ground to powder for the recipe to work! I use a coffee grinder for this.
1 teaspoon cardamon
1 teaspoon cinnamon
1/4 teaspoon salt
1/4 teaspoon ground cloves
1/4 teaspoon turmeric (kurkuma)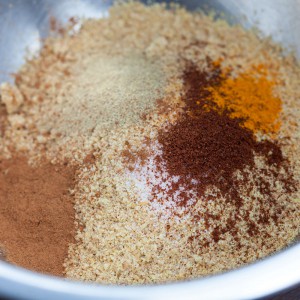 Stir first and then add:
3 eggs
4 tbsp. water
3 tbsp. sesame oil (or other oil you have on hand)
Mix all ingredients and then divide the batter into 6-8 wraps in the parchment paper. I make them kind of square but you can make round ones if you like.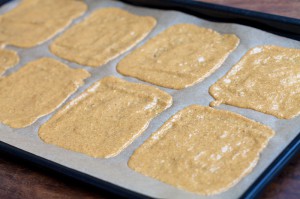 The batter is very fluid – but easy to spread using a plain spoon – scooping it out and spreading it.
Bake in the oven for 10 minutes.
As a filling I chose nut spread ( tried both peanut and almond – and both was delicious), and bananas. Topping off with some roasted nuts and a sprinkle of cocoa.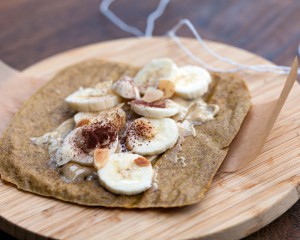 This morning we also had persimmon mixed in with the banana and I can imagine strawberries would be lovely too… You can be creative if you want to…
Roll them up and optionally tie with a piece of string – or just eat straight away!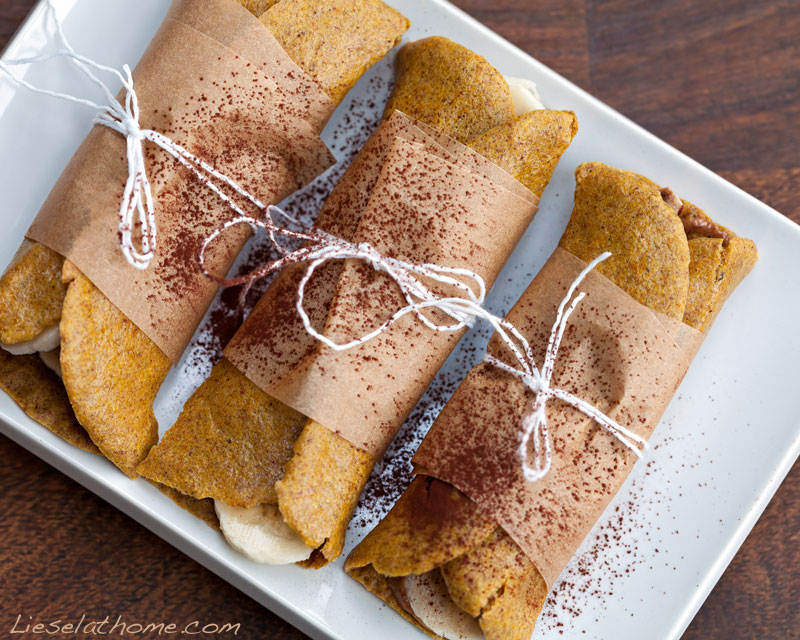 OK – so the sprinkled cocoa over the rolled up parchment paper doesn't really make sense 🙂 but it does look nice! And nice is good!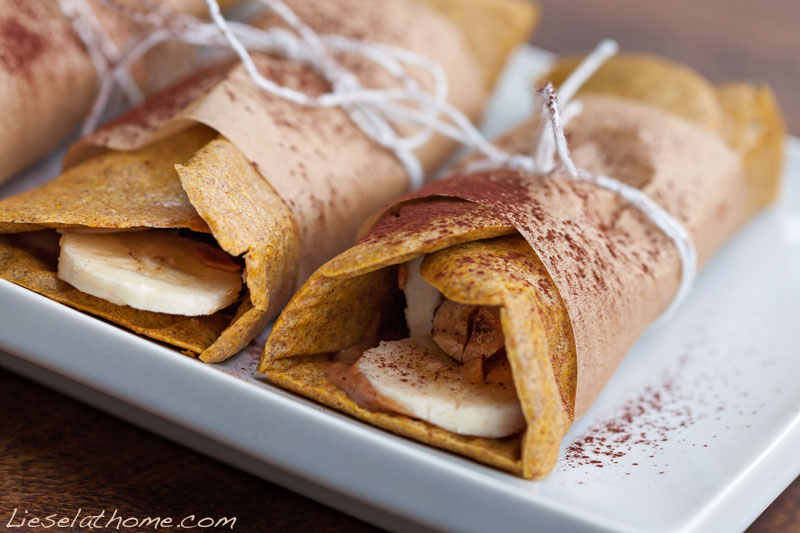 My son just walked by and commented on how delicious they were. I think we'll make a few more tonight!
Enjoy!
Liesel
Sweet flax seed banana roll