You don't need to have visitors to make these, but my thought behind the recipe is that often people who are not on a grain free and sugar free diet like us, tends to think most of my cookies aren't sweet enough. Sugar kind of hijacks our taste buds so if you eat sugar on a daily basis you might not experience other tastes as strongly as if you stop eating sugar.
This recipe is based on my most popular cookie recipe – cookies for grown-ups. I've added in more sweetness as well as the sweet and fruity taste of orange to even out the bitterness.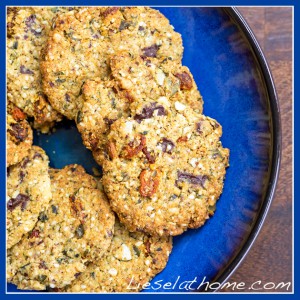 Let me just point out one more thing before we start. Never substitute the coconut oil that I use in my recipes with low fat, butter-replacements. Butter yes – if you have real butter. Margarine – no, never! If you want to use low fat alternatives, look somewhere else for your recipes. Mine will simply not taste good without the fat.
OK – now turn your oven on to 140 C (280 F) and get baking tray and parchment paper ready.
In a big bowl:
100 g (about 1/2 cup) coconut oil (or butter – almost 1 stick)
1 egg
grated zest (peel) of two oranges
1/2 tbsp. vinegar (I use apple cider vinegar or raspberry vinegar)
3 tbsp. maple sirup (or honey)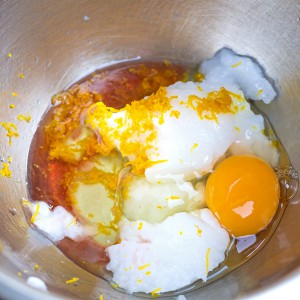 Mix together using a hand mixer or just a spoon.
Then in a smaller bowl separately mix the dry ingredients:
100 ml (0.4 cup) almond flour – which is ground blanched almonds
3 tbsp. coconut flour
100 ml (0.4 cup) pumpkin seeds – slightly chopped
100 ml (0.4 cup) walnuts – chopped
50 ml (3 tbsp.) sesame seeds – chopped or crushed just slightly
100 ml (0.4 cup) goji berries
1 teaspoon baking powder
1/4 teaspoon salt
1/2 teaspoon vanilla powder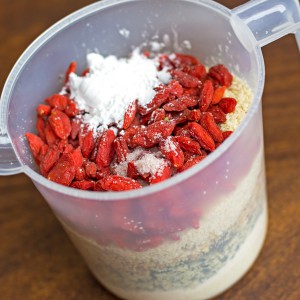 mix the dry ingredients with a spoon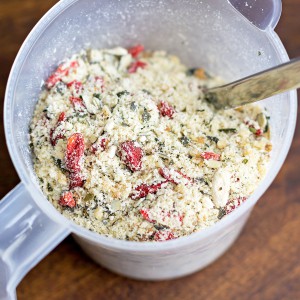 Then chop 40 g (1.4 oz.) dark chocolate. I had the 80% dark from "Naturata" – my favorite brand!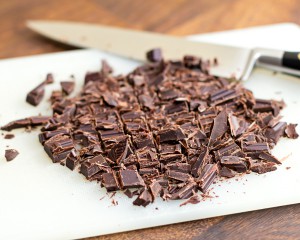 Now add the dry ingredients and the dark chocolate to the coconut oil and egg mix – and mix properly. I use a hand mixer, but a simple spoon will do as well.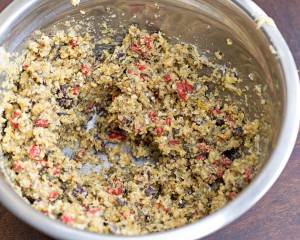 Then form about 20 round balls with your hands and place them on the baking tray. Press them flat with your hand or a fork. If they stick to your fingers – just make your hands a bit wet and continue.
Bake in the lower part of the oven for 25 minutes.
Once time is up, get the cookies out and leave them on the baking tray to cool down completely (or they will totally crumble). Once cooled, carefully turn them around – up side down – and put them back into the oven. Turn the oven back on, on low heat for four or five minutes just to get it warm, then turn off again and leave the cookies inside with the door slightly open (wooden spoon in the door crack…) for about 20 minutes. This little extra process is worth it – to get the perfect crunch, which is otherwise difficult when not baking with sugar.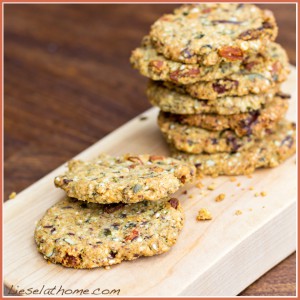 We're gonna pretend to have visitors today, and just eat them all by ourselves! 🙂
Enjoy!
Liesel