OK I realize we can't have a big fancy cake everyday. How would that look! (Pretty great if you ask me…:-)) But who says we can't cheat – and make fancy muffins? Or even fancier cupcakes? There was a birthday celebration in my daughters class the other day and she asked me if she could bring her own treat to eat when the rest of the kids munch on the sugar bomb – gluten containing – cake that the birthday kid promised to bring…. So yes of curse – I made these for her – and she was delighted!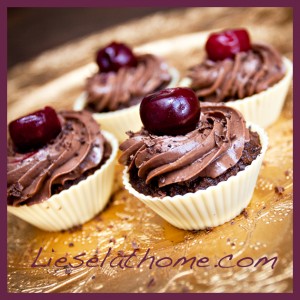 Start by getting some cherries out of the freezer. Don't tell me you have fresh ones….? Lucky you in that case!! (but you'd still have to pit them….). Leave them to de-frost on a plate. Amount? About 40 cherries….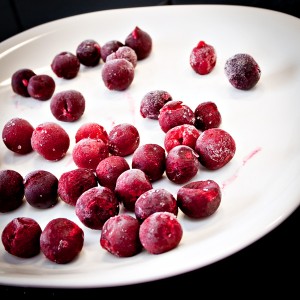 Turn the oven on – to 180 C (350 F)
 In a big bowl
1 banana – mash it
3 tbsp's coconut oil
3 generous tbsp's cacao powder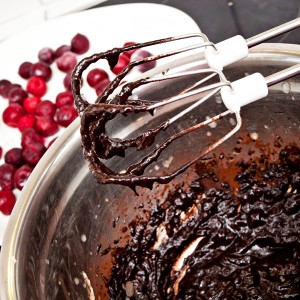 Whisking that – looks delicious!! But keep adding:
4 eggs
1 tbsp vinegar
1 – 2 tbsp's honey
and mix all with an electrical whisk until blended – and leave for now.
The dry ingredients – in a smaller bowl or a jug:
 150 ml (0.6 cup) shredded coconut – ground first in a small mixer together with 3 dried and pitted dates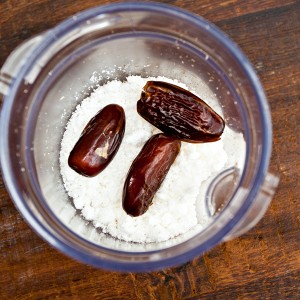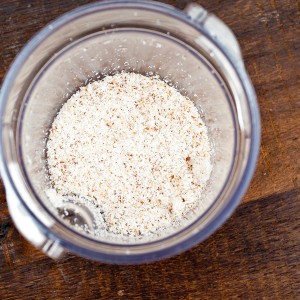 150 ml (0.6 cup) almond flour – which is ground blanched almonds
2 tbsp's coconut flour
1 teaspoon baking powder
a pinch of salt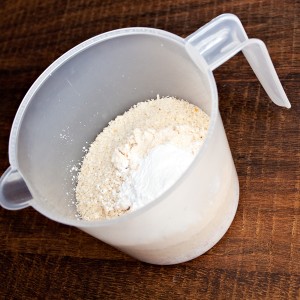 mix with a spoon
Add the dry ingredients to the wet, whisk a bit more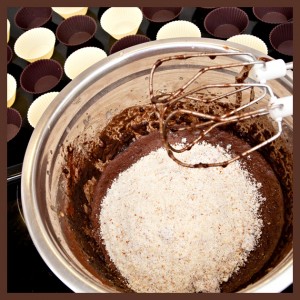 And then I added a tbsp of vanilla whiskey…. Yeah, I know that sounds odd. It's homemade – by putting a bunch of cut open vanilla pods into a jar of whiskey and leaving it to suck up the flavor for 4 months (I use it for baking only – it's not for drinking!). Since I'm pretty sure you don't have this (do you?)– you could, if you want to, add a tbsp of whiskey and add some vanilla OR you could at a tbsp of red wine OR you could also just skip it totally. It was just an idea…
Anyway – back to the important stuff!
Now is the time you realize that the cherries didn't really thaw as much as you had hoped (or was that just my cherries?) I had to give mine 20 seconds in the microwave to at least get rid of the ice that was covering them. Then, once cherries are OK, the batter is properly mixed and the muffin forms are organized in an attractive pattern on the baking tray – it's time to fill your muffin forms something like halfway up.  Then into the middle of each muffin, press one cherry. If you are not doing mini-size muffins like mine, you might want to add two or three cherries into each muffin.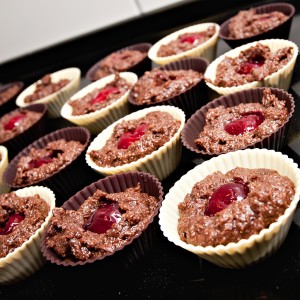 Bake in the middle of the oven for 18-20 minutes.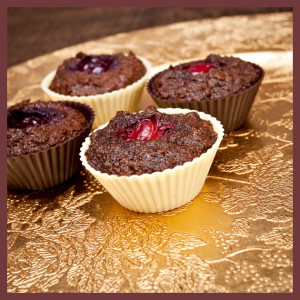 Now, I've made these a few times (because they are AWESOME!) and only the first time did I turn them into cupcakes. So, this is not necessary, they are great also without the topping. But if you are celebrating – this is a way to turn the fancy muffins into fancy cupcakes:
 Melt dark chocolate. Really, really dark is preferred for several reasons. Use a pot of hot water and a bowl inside…. I had 40 gram – which was enough for about half of the muffins… Double up if you want them all to be cupcakes.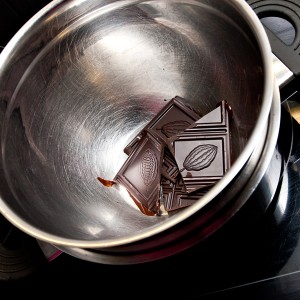 Once melted, add a couple of generous spoons of mascarpone or natural yoghurt.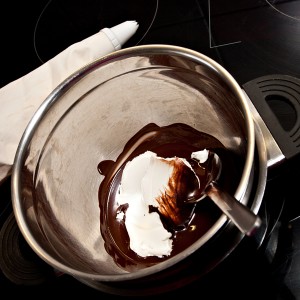 Fill an icing bag and decorate the muffins. Spiral from out to in…
You can then grate dark chocolate over them, sprinkle with shredded coconut, add a cherry or be creative in other ways.
 Enjoy
 Liesel
Dark cherry muffins (and cupcakes)