And might I add – tastier! I've recently discovered that homemade coconut milk is better in so many ways, and I cannot see myself ever buying the canned version again. Just follow these few simple steps and you'll know why!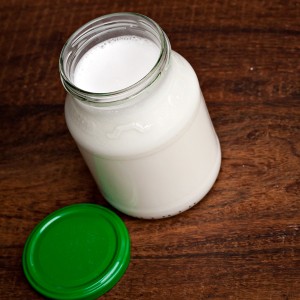 It all started with me checking the backside of the can of coconut milk I used to buy. Wow – it contained quite a few extras that I was so not interested in putting into my body. And yes – you can buy the organic, pure version that contains only coconut and water, but it is rather expensive (and still comes in a can – which has a heavy impact on our environment too).
So I decided to make my own and googled and tried loads of different recipes – and this is the version I now use on an almost daily (ok – maybe twice weekly) basis.
Start with buying shredded coconut. It really comes down to quality here so do grab the organic version or at least not the big bag for under 2 Euros that the big supermarket has. (Tried that and ended up with a very sad watery cocnut milk)
Use a blender to mix!
 400 ml (1.6 cup) shredded coconut – that is about 150g
optionally (but highly recommended) 1-2 tbsp's coconut oil
400 ml warm but not boiling water
mix on high for 2-3 minutes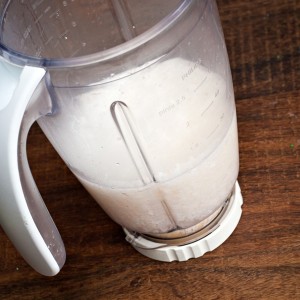 To not risk over heating your blender you might want to pause it every minute.
Add 150 ml cold water and keep mixing for another minute or so.
Then strain it, using a bowl, a sieve and a cheese cloth – or something similar to a cheese cloth. I didn't have one so I used a thin piece of fabric. A kitchen towel might not work well here since the fabric is normally too compact (dense).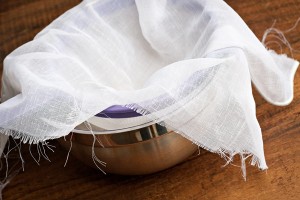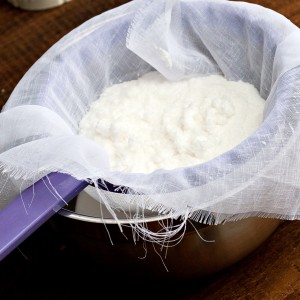 Pour the mixture into the cloth and then gathering up the sides, press the fluid out properly. You should end up with about 550 ml coconut milk and about 400 ml almost dry finely shredded coconut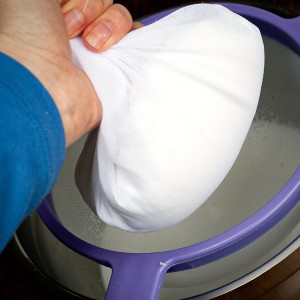 Use your coconut milk for baking, cooking, smoothies – or even drink it just like it is with a spoon of cacao powder – as a healthy grownup version of hot chocolate. I store mine in an old yoghurt glass, in the fridge, and it seems to be fine for a few days like that – but we always use it up rather quickly so I can't say for how long you could store it….
And don't throw away the shredded coconut!
Either – let it dry, on low heat in the oven (spread it out first) for 20 minutes or so – OR if you're lazy, like I tend to be, and know you will bake the next days anyway… just store it (still moist) in a container in the fridge. Use it like any shredded coconut for your normal baking or cooking recipes.
A quick calculation in the end : 
Good quality shredded coconut (in this case the German brand Rapunzel) costs about 2.50 Euro for 250 g.
That is 1 Euro per 100g. We used 150 g (1.5 Euro).
Even if we add for the coconut oil, and electricity using the blender – we still land on a cost below 2 Euro for 550 ml coconut milk (36 cent /100 ml)
Organic canned coconut milk (again the German brand Rapunzel) cost about 2.50 for a can of 400 ml. (0.63 / 100 ml)
AND – we still have the 400 ml shredded coconut to use for baking – at no cost!
Enjoy!
Liesel
Coconut milk, the cheaper and healthier homemade version