This cake started with my daughter, Elin, asking me to please bake with her. She wanted to make something like a cheesecake, but we did not have enough "cheese" for that. So we checked the fridge for what we did have and what needed to be used. Cranberries, cherries and a bit of Philadelphia crème cheese. Can you make a halfway cheesecake? We gave it a go! This one would fit real nicely in a category called "weird combinations – great results"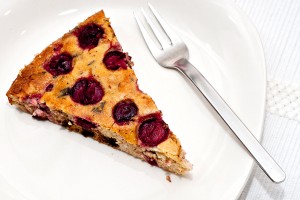 We started off by choosing a form. The big round 28 cm (11 inch) springform was picked – and buttered and sprinkled with almond flour.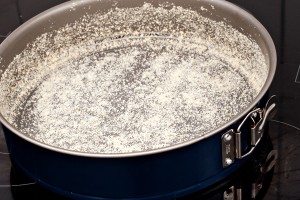 That done, in a big bowl:
Mash 1 banana
Add 4 eggs
1 tbsp honey
and 1 tbsp vinegar
and then – to make it a "halfway cheese cake" add 150 g Philadelphia creme cheese
And mix it with an electrical whisk.
Now for dry ingredients, in a smaller bowl:
200 ml (0.8 cup) shredded coconut + 4 dried pitted apricots. Grind together first, in a mixer / grinder
100 ml (0.4 cup) almond flour – which is ground blanched almonds
2 tbsp's coconut flour
1 teaspoon baking powder
Mix together with a spoon
Since the combination of cranberries and dark chocolate is amazingly good we decided to use some for the cake:
50 g very dark chocolate – chop this to pieces and leave for now.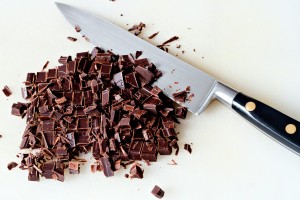 And also melt 50 g (1.8 ounce) butter and put to side.
Wash about 200 ml cranberries (which weighed 100 g (3.5 ounce). Elin liked the weighing after determining the amount of Philadelphia so she kept weighing most stuff.)
And prepare the cherries for the topping (about 30 of them). We had frozen, pitted ones, that we cut in halves – which is easy to do, even when they are still frozen.
Now everything is ready to get mixed, but do turn on the oven first! 180 C (350 F)
Then add the dry ingredients to the eggs and whisk. Also add the melted butter, and the cranberries, and mix.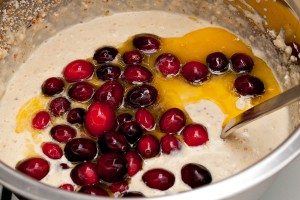 And last – add the chopped chocolate and give it one more stir.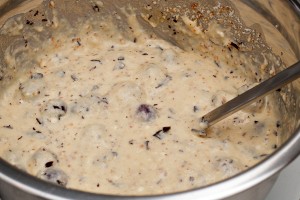 That looks soo lovely, you'll just want to eat it with a spoon directly out of the bowl… But instead – Fill the form and decorate with the cherry-halves.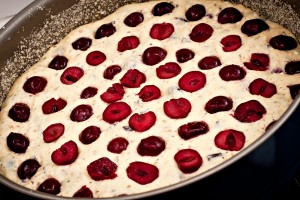 Just for fun we put some cherries with skin facing up and some with skin facing down – just to see which way they would look nicer. Next time I'm gonna go with skin facing down – those turned out better looing.
Bake in the lower part of the oven for about 30 minutes. If you are using a smaller sized form, your cake will be higher and will need a bit more time in the oven. You might want to lower the temperature a bit and bake for 10 or 15 minutes longer then.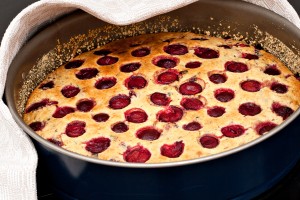 Let cool down before eating. Actually – the cake was even better after a night in the fridge (we had the left over pieces for breakfast :-)) so if you are planning ahead (not my strength to be honest) – make the cake a day before you are planning on eating it!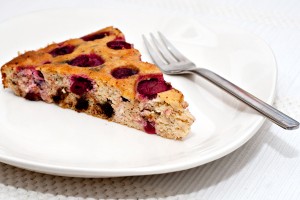 Enjoy!
Liesel – and Elin
Elins Cheese, Cherry and Cranberry Cake