Being creative, means trying out new ideas – and that won't always end in huge successes. Sometimes the process is more about learning, then a perfect end result. As in this case. I would have been thrilled to tell you this is the ultimate cupcake topping. But it's not. It's not bad at all, but I need to work a bit on the recipe… I'll tell you about it anyway – because this is what it's all about. Learning by doing as the scouts say!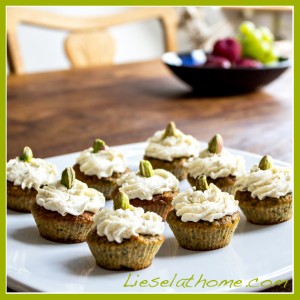 I had finally found cacao butter – at our local organic shop – and I wanted to try out making something with it. Cupcake toppings are a favorite of mine to experiment on so I decided to try and make a cacao butter based cupcake topping.
I made banana spinach muffins, using the recipe for the banana spinach cake (only adding one extra egg, and then baking them in my mini sized muffin forms) and let them cool down before doing the topping.
Start by melting the cacao butter in a small bowl placed in a pot of hot water. The water does not need to boil – the butter melts easily.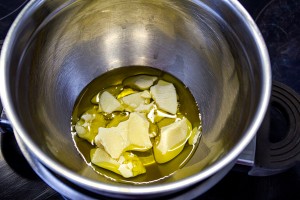 Once melted, I added 2 large spoons of plain natural yoghurt and one spoon of honey.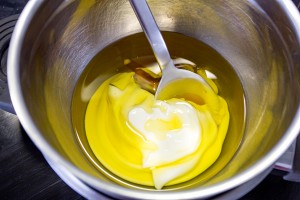 I then added vanilla since I thought that could give nice taste – but I'm not sure this really made much difference.
Now, once mixed, place the small bowl into a larger bowl with an ice bath, (a bit of water and a few ice cubes) and whisk with an electrical whisk. This to get a creamy result while cooling down. And then when you reach this creamy consistency – fill an icing bag and decorate the muffins.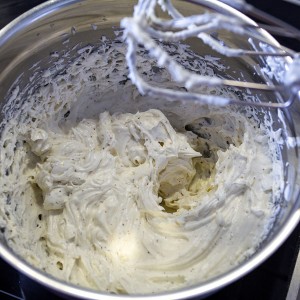 It's a bit tricky to get the right creaminess without the topping going complete stiff. And you need to be quick with the icing bag for the same reason.
I chose to top things off with a pistachio nut on top of each cupcake, simply because they are green (like the spinach muffins) and I had a bowl right next to me while doing this. Later on I thought of green grapes. That could have worked nicely too…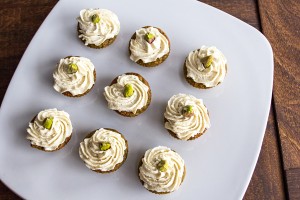 This topping goes hard when cold – much like chocolate. What I'm gonna work on is what to add to the cacao butter. Maybe a mix of cacao butter and normal butter and yoghurt? Or maybe also some mascarpone? Anything to make it more creamy!  And – cacao butter being rather taste less, it needs taste added, as in honey, vanilla, lemon – or something else. Maybe mashed frozen berries?
Maybe you will come up with other ideas? I'll keep experimenting and let you know how it goes!
Enjoy,
Liesel
Experimenting with cacao butter