I haven't been very creative these last weeks, but rather used my old favorite recipes over and over. Nothing wrong with that! The kids are happy when they get to pick what I bake and they love my new collection of pictures under the menu "recipes" above here. Makes it easy to choose. Or difficult – depending on how you see it….
Today however, I felt like doing something new. Well not really new actually – but adding some new ingredients to an old and loved recipe. The Scandinavian tosca berry pie. Read on to see how that went and to get the recipe for it!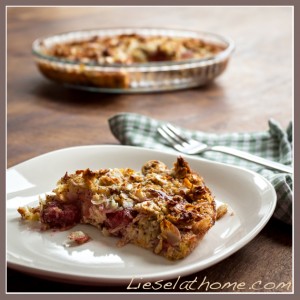 We still make the Scandinavian tosca berry pie at least once a week and it is probably my most used recipe on the whole blog. Easy and delicious.  Today however I decided to tweak it a bit and add my favorite vegetable – carrots. This is how it's done:
Turn the oven on to 180 C (350 F)
Butter a pie form (to prevent the pie from sticking)
If you have frozen strawberries – thaw them. (I do that by placing them on a plate in the oven while it's heating up) About 30 small'ish berries. If you have fresh ones – wash and possibly cut into pieces if they are big.
Then – in  a big bowl:
1 middle sized carrot – grated
1 banana (or actually – even better – 2 bananas!)
1-2 teaspoon(s) finely chopped (or grated) fresh ginger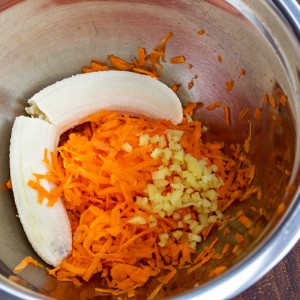 Mash and mix and then add
and mix again.
Empty the mix into the pie form and add the strawberries. Rather place them in the form one buy one, than trying to sprinkle them.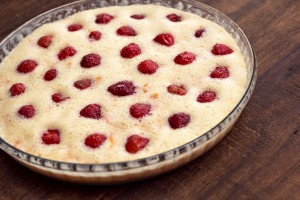 Put the form in the oven and bake for 15 minutes.
Meanwhile, mix in a smaller bowl:
50 g (about 3 tbsp's) butter
100 ml (0.4 cup) shredded coconut
150 ml (0.6 cup) almond slices
1 tbsp honey
½ teaspoon vanilla powder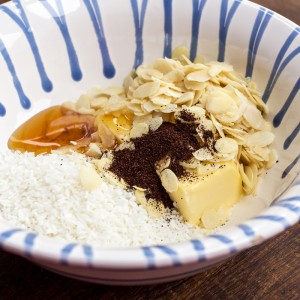 This will be easiest to do if the butter is room tempered.
When the 15 minutes are up, get the pie out and sprinkle the topping over it. I've long given up trying to do this with a spoon and fork and now use my hands.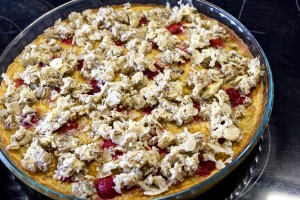 Then put it back into the oven for another 15 minutes (still at 180 C / 350 F)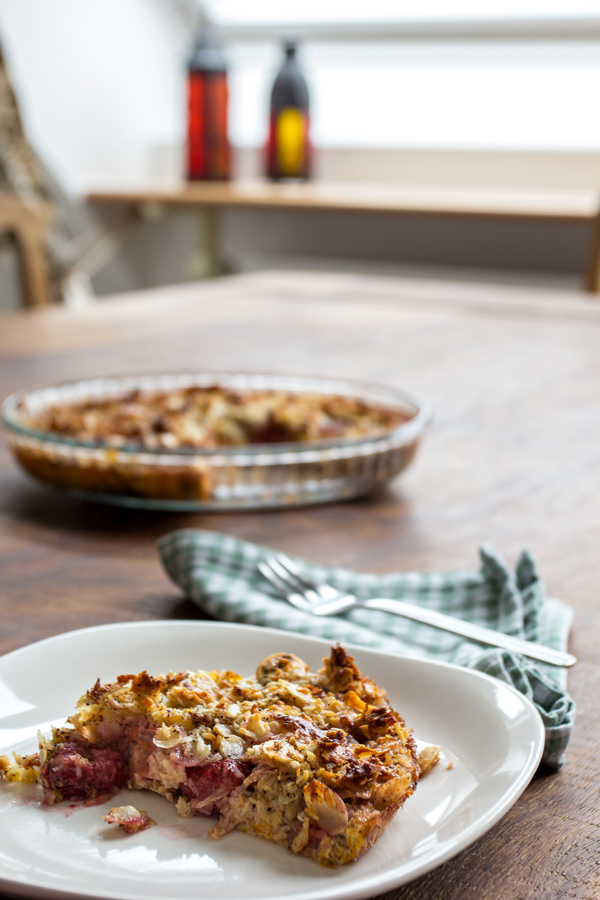 Done! Now – I used only one banana, but the next time I'll take 2. We missed the sweetness to be honest. That's why I commented on this in the recipe above.
Enjoy!
Liesel
Our favorite tosca berry pie – with carrots