Lately I have been totally into oranges. Eating them, making smoothies with them, cooking with them and even baking with those oranges. This is a lovely recipe for orange muffins (cupcakes) that calls for no sugar, no honey, no stevia or other sweetener – just the natural sweetness of fruit.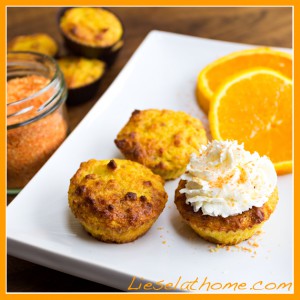 Turn on the oven – 180 C (260 F)
In a big bowl:
– 1 banana
– the zest (grated peel) of two organic oranges
– the juice of one of those oranges
– about 3 tbsp. coconut oil
– 4 eggs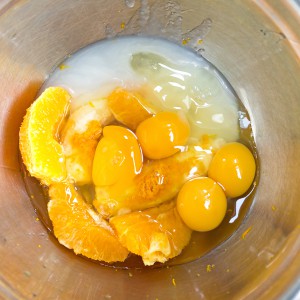 In the picture you can see that I put one whole orange in there (in pieces, mind), but after mixing it I kept having to pick out the skins and dry parts – so I recommend you to just press the juice out of the orange.
Mash and mix.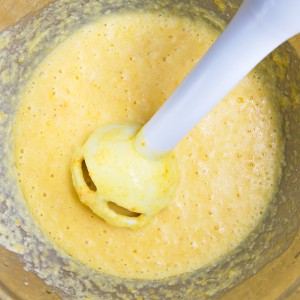 Use a hand held mixer, like I did – or just a fork…
Then in a separate bowl mix the dry ingredients
– 100 ml (0.4 cup) dry shredded coconut – ground with
– 4-5 dried apricots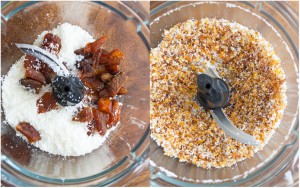 My new grinder is picky so I have to cut those apricots into smaller pieces first to make it work. If you don't have a grinder – you could skip the apricots, add just the shredded coconut and possibly a tbsp. honey (add honey to the wet ingredients though!)
– 100 ml (0.4 cup) almond flour – which is ground blanched almonds
– 3 tbsp. coconut flour
– 1 teaspoon baking powder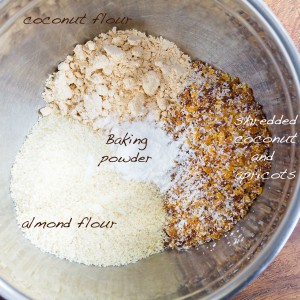 Mix the dry ingredients, add them to the wet ingredients and then fill your muffin forms with the batch.
Bake in the lower part of the oven for 18-20 minutes (mini sized ones, like mine) or 20-25 minutes (normal sized ones)  until they have a bit of golden color.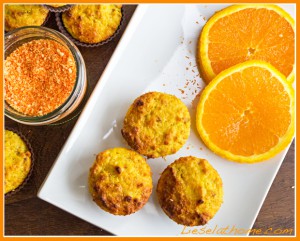 Lovely just as they are – you could however also add a simple topping if you feel like. Either mascarpone mixed with honey and lemon juice like in the top picture, or mascarpone mixed with cacao powder and honey like in the picture below.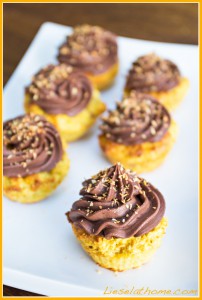 The orange sprinkles are shredded coconut, naturally colored with saffron! Read how to over HERE
Enjoy!
Liesel