Cookies – crackers, the difference lies somewhere in the sweetness and texture, right? These are somewhere in between. Kind of like digestives, if you know that particular one. I'm normally not a big fan of cookies except for my chocolate chip cookies or  "cookies for grown-ups" but I still make some every now and then for the kids. These hazelnut cookies with cardamom, are a new recipe that turned out quite nice. They were meant to be cookies – but I got inspired afterwards to rather use them as crackers with cheese. Yum! That's more like me. 🙂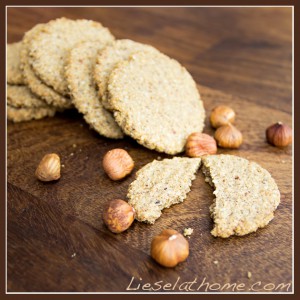 Starting with the wet ingredients, take out a bowl and mix:
3 tbsp (50 g) coconut oil
1 egg
1 tbsp. maple syrup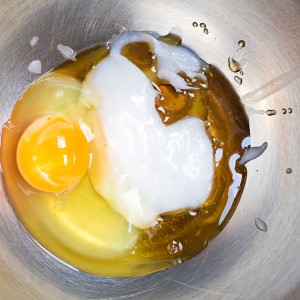 Stir and leave for now.
Get a mixer or grinder out and grind the following:
100 ml (0.4 cup) whole hazelnuts
100 ml (0.4 cup) sesame seeds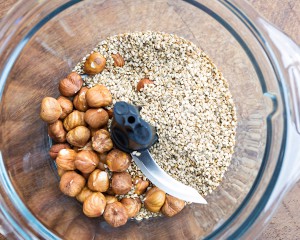 If you don't have a grinder – buy ground hazelnuts and mix that with sesame seeds – same amounts as above.
Add to the ground nuts and seeds:
2 teaspoons cardamom
1 teaspoon vanilla powder
1 tbsp. coconut flour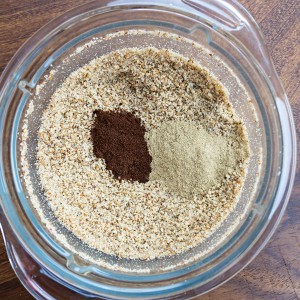 OK, ok – the coconut flour is not in the picture. I admit – I forgot it and only added that later. Sorry! 🙂
Mix the dry ingredients with the wet ingredients and then roll little balls (I got 17) and place on a parchment paper. Press them flat with a fork or your hand.
Place the baking tray with cookies in the cold oven and turn the oven on to 140 C (280 F). Set a timer for 25 minutes. When the time is up – turn oven off, possibly turn the cookies upside down to dry out the under side, and leave them in the oven for another 5 minutes with just a crack open (wooden spoon in the door).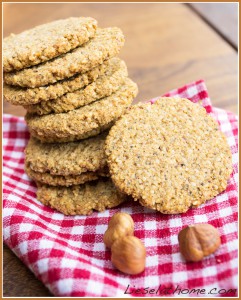 These cookies aren't very sweet but still have a lot taste. As mentioned above – I can imagine them with some fresh cream cheese or a thin slice of brie… and chives… and a piece of bell pepper… or tomato… Oh – got to go and get my cheese platter out!
And here we go: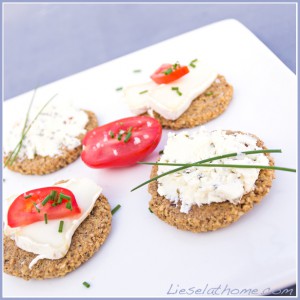 Yes – the perfect fit!!
Enjoy!
Liesel
cardamom hazelnut cracker-cookies