A very special person recently had a birthday. She is an enthusiastic health promoter and also one of my most loyal followers on Lieselathome's Facebook page. She recently sent me a question, asking for ideas for a cake since she has invited some people over to celebrate this birthday, belated since she was on Bali on the actual date. Now – who wouldn't have LOVED to spend a birthday on Bali!!! Anyways – this cake is for Monica! No grains, no lactose. She also can't eat coconut – so no coconut flour. She can have coconut oil however and there is plenty in this cake. Who ever can't eat it, can switch it for butter! I know Monica loves chocolate so of course this is a double chocolate layer cake!!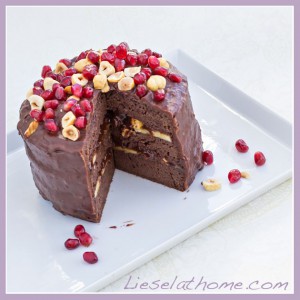 To make the cake I used the recipe I recently posted for chocolate muffins and just switched the coconut flour to potato flour – 1 to 1, same proportions!
Basically it is:
1 medium sized zucchini, grated
1 banana
4 eggs
2-4 tbsp honey or maple syrup, depending on who is eating…
3 tbsp. coconut oil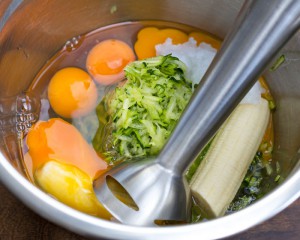 Mixed together using a hand held blender, and then:
5 tbsp. almond flour
100 ml (0.4 cup) coconut flour – switched, in Monicas case, to potato flour
5-6 tbsp. cacao powder
1 teaspoon baking powder
1/4 teaspoon salt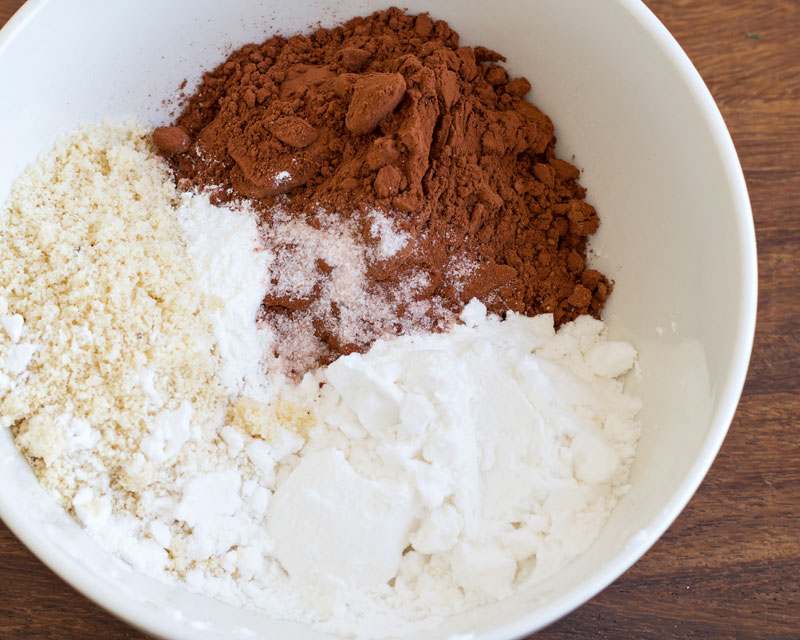 Mix and add to the dry ingredients, fill a cake form. Mine is tiny, so my cake turns out high. If your form is bigger (normal cake size) you might want to double the recipe and possibly keep the cake a bit longer in the oven…
I baked my cake in 160 C (320 F) for 55 minutes. A double batch in a bigger form might need 65 minutes. Try with a tooth pic in the middle and see if the stick comes out dry'ish…
Meanwhile – make the amazing chocolate mocha cream that we use as filling and topping. In a blender:
8 medjool dates – without stone
6 tbsp. coconut oil
4 tbsp. hazelnut butter
2 tbsp. cacao powder
100 ml (0.4 cup) hot fresh coffee
Blend until all is a creamy mix. Spoon into a bowl and leave to cool off. Once room tempered this cream is perfect for topping cakes, cupcakes or to be honest – to just eat with a spoon 🙂 Again – if you made a bigger cake – you might need more topping, so possibly make a double batch of that one too….
Once cake is baked and cooled – cut into 2 or 3 layers, depending on how thick the cake is.
This is how I filled the cake – using banana, roasted hazelnuts and chocolate mocha cream: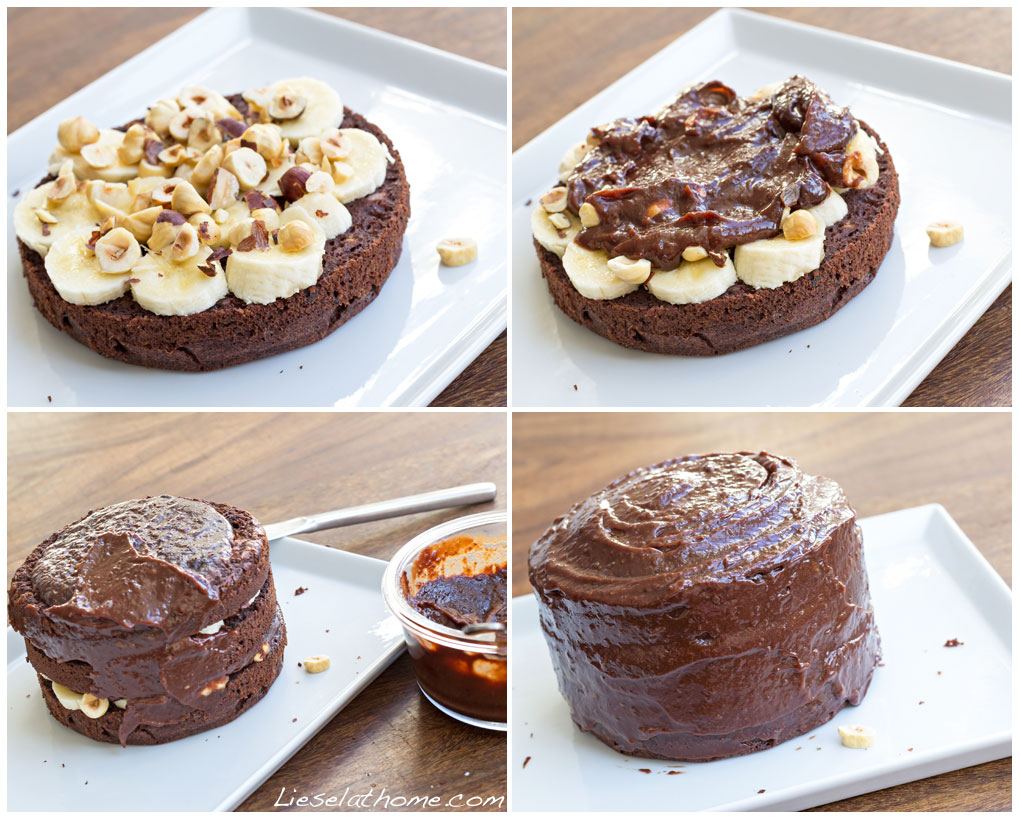 No need to spread the cream between the layers perfectly even – when you press down the next layer on top, the cream will even out… and when you cover the cake from the outside you can fill any open spaces left between layers…
Then – sprinkle with some nuts
And possibly fresh berries or pomegranate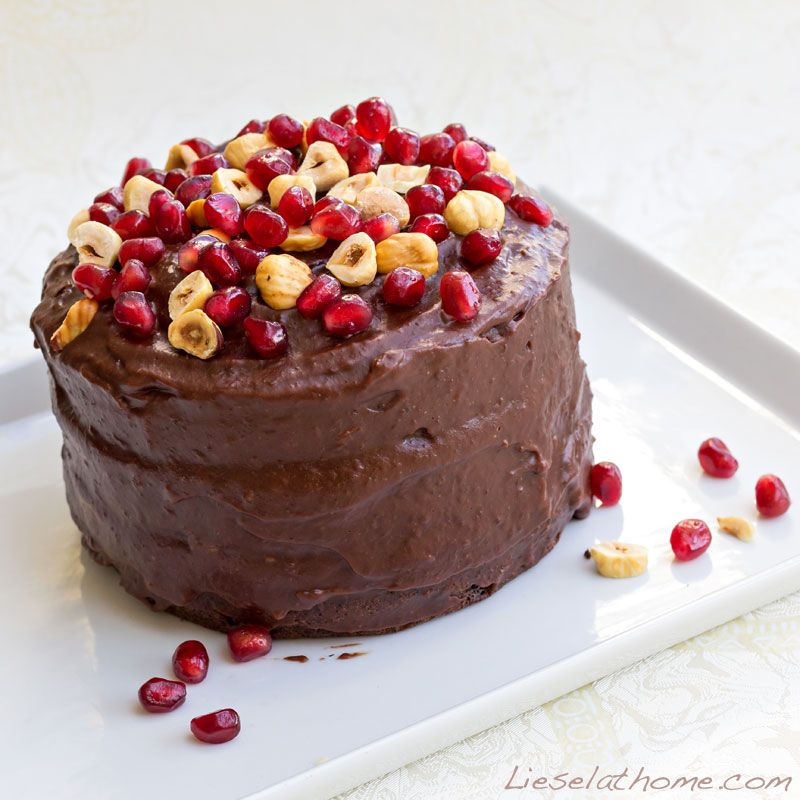 Leave the cake to cool in the fridge, at least one our or even better – over night. The cream will settle and become totally solid which makes it easier to cut nicely. I was not that patient – but the slice is still beautiful…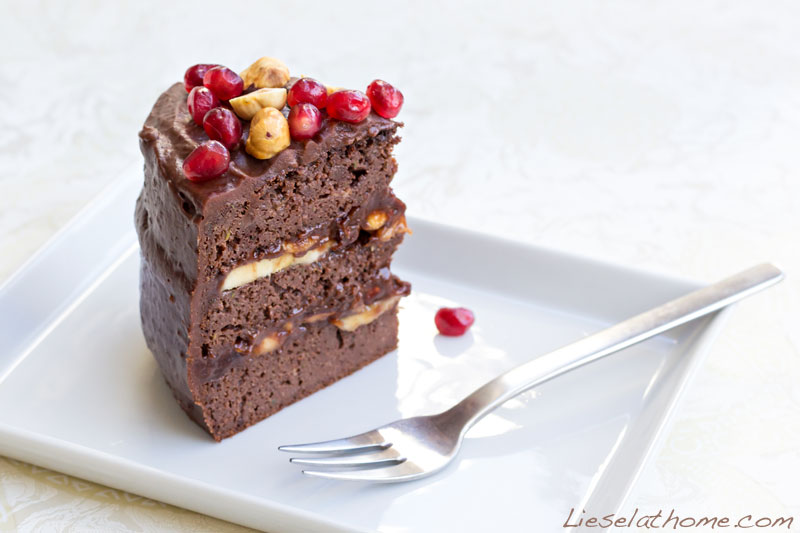 See how solid the cream is on the outside – but not yet inside… This was after 20 minutes in the fridge. I know… I was in a hurry to get the pictures before to sun was gone 🙂
Anyway – happy belated birthday Monica! (Btw, she lives in Denmark, so unfortunately she'll have to bake her own cake… My kids said to tell you all, the cake is awesome!)
Enjoy!
Liesel