They are in season right now – the prunes. Also called "baking plums". They're the smaller plums. Not quite as sweet, and perfect for baking. This cake is easy to make and easy to impress someone with. It looks  beautiful – and tastes delicious! The recipe is grain free and nut free – and if you leave out the topping it is also lactose free!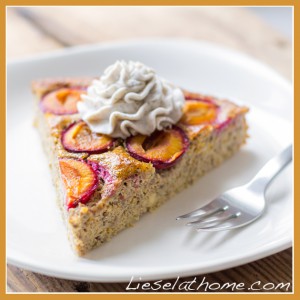 Start with the prunes. The Germans call them Zwetschgen, which has to be one of my favorite words in German. Impossible to pronounce – just like the name of that big airport in Amsterdam…
Anyway – wash the prunes and cut them in half. Take out the stones too, while you're at it!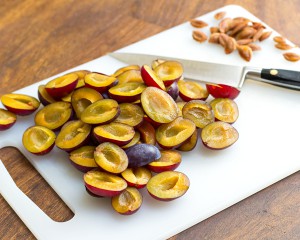 Turn on the oven to 180 C (360 F)
Prepare a cake form – or a pie form. Possibly spread a bit of butter or coconut oil inside to prevent the cake from sticking to the form. This cake works for a large form. If yours is smaller, the cake will be higher, which is ok too!, but it might need a bit longer in the oven. Check with a toothpick to be sure. (It should come out dry if you stick it into the middle of the cake)
In a bowl, prepare the wet ingredients:
2 bananas – mashed
3 tbsp. coconut oil
the grated zest (peel) of one orange
the juice of the same orange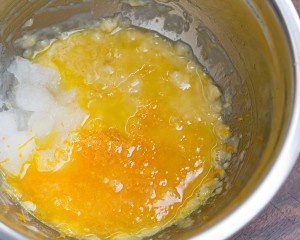 mix those ingredients before adding the next two: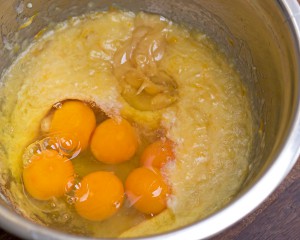 Since I always bake using eggs directly from the fridge, I am careful to mix coconut oil with banana before adding (cold) eggs. If not – the coconut oil tends to get a bit hard and is more difficult to mix in…
Then, once the wet ingredients are mixed well, get another bowl out and separately mix the dry ingredients:
100 ml (0.4 cup) coconut flour
50 ml (just over 3 tbsp.) chia seeds
1 teaspoon baking powder
1 teaspoon cinnamon
1/2 teaspoon cardamon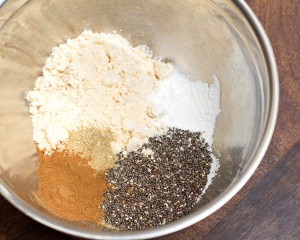 Mix those together, before adding the dry ingredients to the wet. The thing with coconut flour is it sucks up fluid pretty quick and while mixing you will notice how the batch thickens. That's good!
Fill your form with the cake mix and then place the prunes in a nice pattern. Easier than you might think! Just start with the outer ring!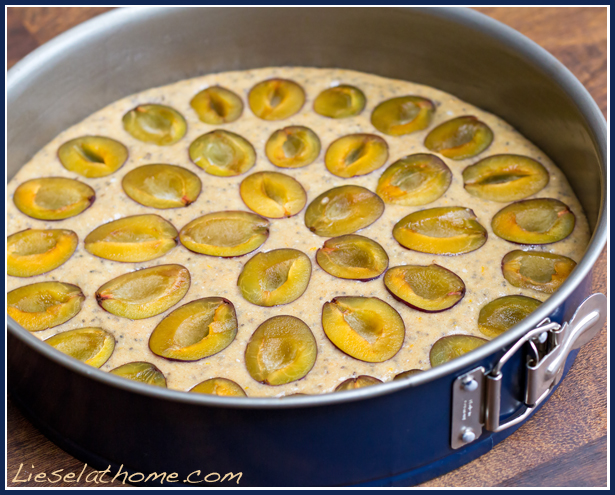 Looks soooo pretty! Right?
Bake in the oven for about 30-35 minutes. The cake should have a golden color by then.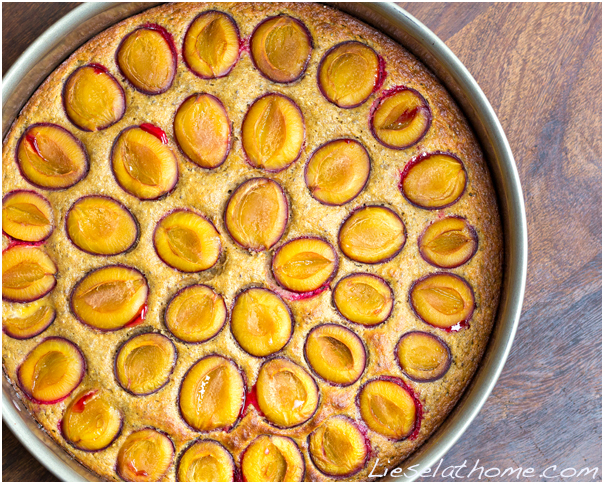 You can serve it just as it is, or with whipped cream (yum!) or, as I did, with vanilla mascarpone. Simply mix a few spoons of mascarpone with half a tbsp. honey and half a teaspoon vanilla powder.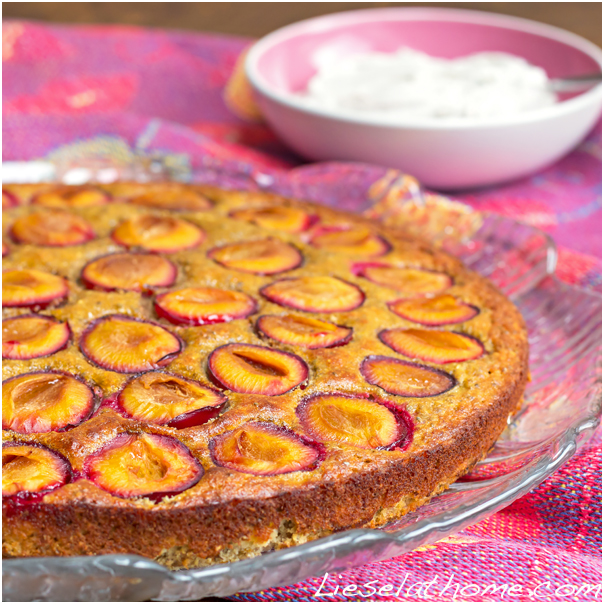 And if you actually did bake the cake to impress on someone – even if that someone is yourself – you could use an icing bag to decorate each piece of cake, with the whipped cream or mascarpone. Like in the top picture..
Enjoy!
Liesel
Added 11 December 2014:
This cake can also be baked in a forged iron pan (or cast iron pan) where you first fry the cake on medium heat for 4-5 minutes and then transfer the pan to the oven (180 C / 360 F) to continue bake for another 20-25 minutes depending on the size of your pan – i.e. how high your cake is.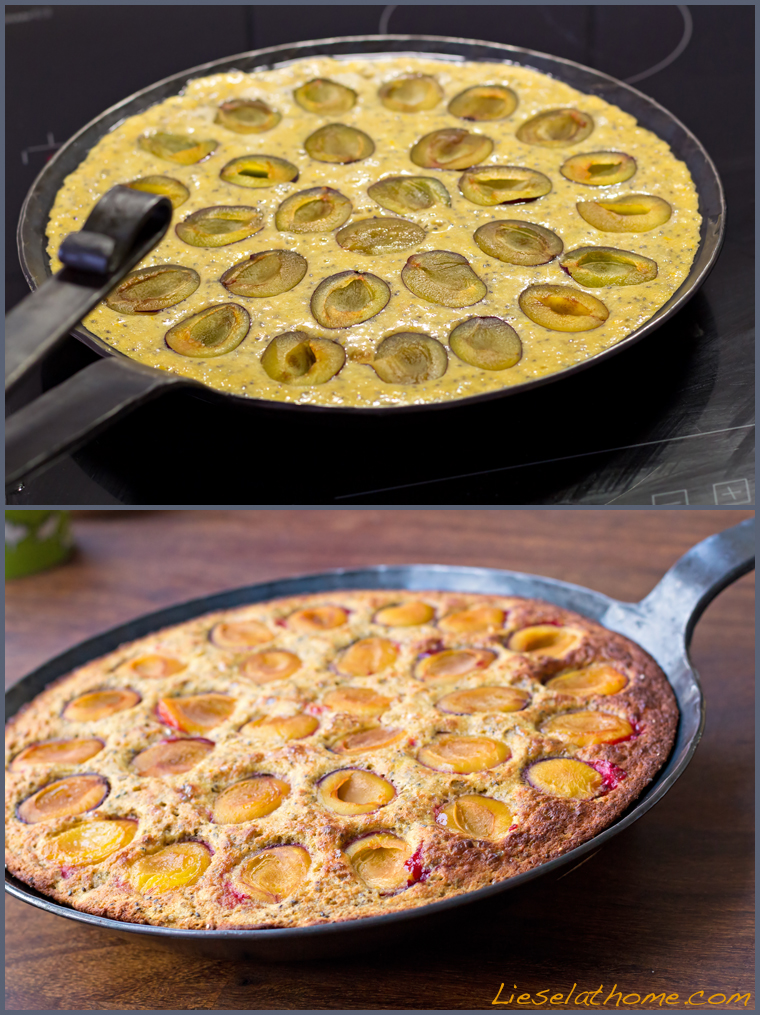 And – when the plum season is over, you can switch the plums for pears! I needed one big pear, sliced thinly for this one – and I added 1 teaspoon cardamom and 1/2 teaspoon cinnamon instead of the other way around, since pears are great combined with cardamon…
Sorry about the dark picture – December candle light breakfast… 🙂
/Liesel
Prune cake – grain free and nut free