August is the season for blueberries here and we've been able to buy them fresh at the market the last weeks. As a kid, summer wasn't summer unless you had blueberry crumble, so when we stopped eating grains, this was one of the first things I started experimenting with. By now, I have a grain free recipe that's not just good – it's awesome! That's why we call it blueberry delux! (My son came up with the name – thanks Albin!)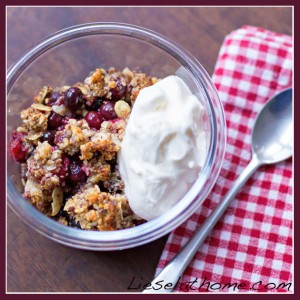 You need about 400 g (14 oz.) berries – fresh or frozen. In Sweden we'd often measure berries in liters and this would be about one liter, depending on the size of the berries. I had fresh blueberries from the farmers market, but also added in a few frozen raspberries. The two go very well together.
Empty the berries into a pie form or any other oven-proof form you have.
Add 3 tbsp. chia seeds and mix around
press the juice out of one orange, over the berries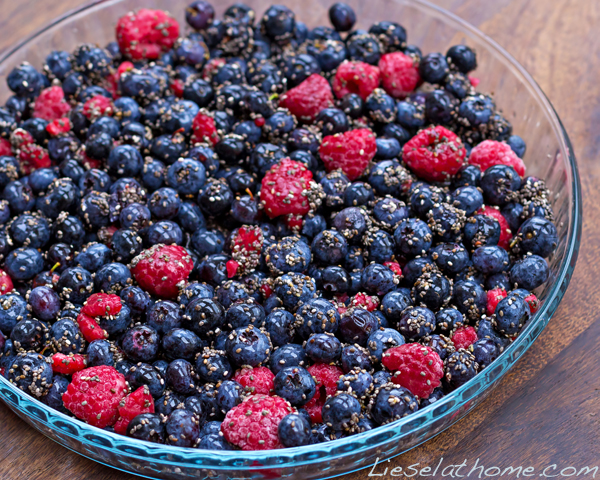 I get hungry just seeing that picture….
Anyway – turn on the oven too now. 180 C (360 F) and if you are using frozen berries – put them into the oven while it is heating up to thaw the berries while you make the crumble.
Next step is to make the crumble – the topping
75 g butter
100 ml (0.4 cup) shredded coconut
100 ml (0.4 cup) almond slices
100 ml (0.4 cup) chopped hazelnuts
50 ml (about 3 tbsp.) ground linseeds
a good bit of honey – like 2-3 tbsp.
1/2 teaspoon vanilla powder
and again, this picture makes my mouth water….. Mix the ingredients. This works best if the butter is room tempered. Otherwise a hand mixer (electrical whisk) does wonder, but just be careful not to spread the ingredients over the whole kitchen…
Once mixed, spread the crumble over the berries. I use my hands to do this. It's easiest that way – plus I get to lick my fingers afterwards!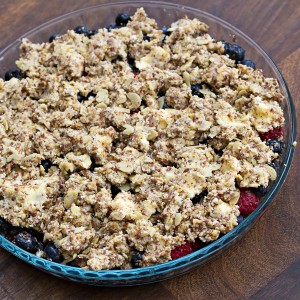 Bake in the oven for 20-25 minutes. The crumble should have a golden color, but not be burned.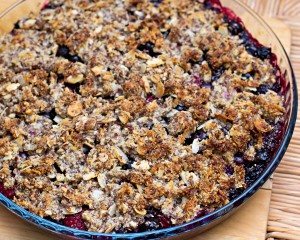 Serve in bowls. This goes very well with a spoon of whipped cream. Mmm…, like warm summer days in a bowl!
Enjoy!
Liesel