Having been trying several different interesting combinations of food for baking and cooking with spinach this weekend, I also came up with these muffins. Laying awake in the morning trying to think of fruit or berries that could make a great combination with the healthy green that is supposed to make us strong – I thought of strawberries. But then, I often think of strawberries… Anyway…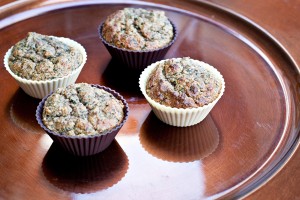 Start by thawing the green and the red. (Or use fresh – but we are in the middle of winter here right now…) I weighed them to give you a hint of the amount, but no need to be exact…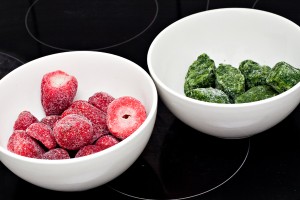 Once thawed mix them in a bowl – I used a hand mixer which was quick and convenient.
 130 g (4.5 ounce) spinach
200 g (7 ounce) strawberries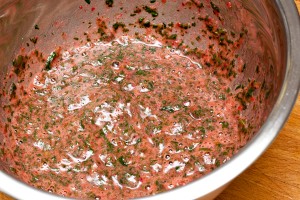 Then add to that mash
50 g (1.8 ounce) melted butter
4 eggs
Peel of one lime (grated)
1 – 1.5 tbsp lime juice (I used one fresh lime and the amount I managed to squeeze out was 1.5 tbsp)
1 tbsp honey (or leave out if you are very careful about your sugar intake)
And mix. An electrical whisk is convenient…
Let's not forget the oven! Turn it on to 180 C (350 F). And get a baking tray out and your muffin forms ready!
As for the dry ingredients – let's do these nut free!
100 ml (0.4 cup) ground flaxseeds – use a mixer / grinder to make a fine powder!
150 ml (0.6 cup) shredded coconut – again, also these go through the mixer / grinder!
3 tbsp's coconut flour
2 teaspoons baking powder
1.5 teaspoon's ground ginger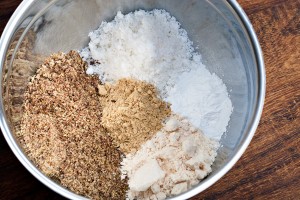 Mix together with a spoon – then add the dry to the wet and give the batch a good stir.
And I know – now you suspiciously take a sniff at that bowl thinking this is a weird combination. I also know that you will be surprised that it actually smells quite lovely (even though there's spinach in there!! :-))
Anyway – fill those muffin forms, about 2/3 and put them in the middle part of the oven for 18-20 minutes (minis) or 22-25 minutes (normal sized).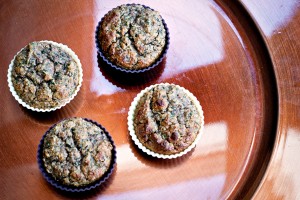 Now – they are perfectly fine just like this. (Or with some creme cheese or a slice of goat cheese – Mmmm!) But if you are feeling fancy, or want to impress someone, you could make a topping…
Sounds good? OK – then get a bowl and that electrical whisk out again!
Take equal parts of butter (or ghee I guess?) and Philadelphia full fat cream cheese. I used 75 g (0.15 lb) of each. But measure whatever amount (Close to that) that is the easiest for you.
Add the juice of a lime (about 1.5 tbsp)
and 1 tbsp honey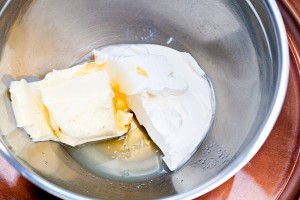 Mix together with the electrical whisk until smooth and then using a normal knife, spread on top of the muffins.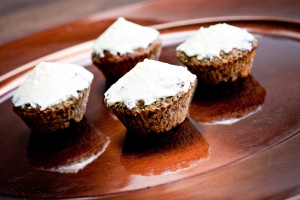 I actually also made some with an alternative topping – a mix of melted dark chocolate (60 – 70 g / 2.3 ounce) and plain natural yoghurt (about 100 ml / 0.4 cup). Those were really great too!
Enjoy! – with or without topping!
Liesel
Spinach and Strawberry muffins – and fancy cupcakes