This weekend has been all about spinach. My family has been eating these healthy green leafs in so many weird, but most times very tasty, combinations that we must soon look like Popeye and Olive :-). Voted to be the most popular creation of the last three days was this cake – A fantastic taste-combination of spinach, banana and cinnamon!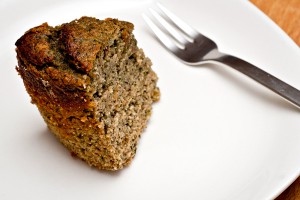 Turn on the oven to 160 C (F) and prepare a form (butter and almond flour). I have the cutest little form (14 cm – 5.5 inch wide) that is perfect for 4 to 6 pieces of cake. If your form is much bigger, you might want to adjust the amounts – or accept that the cake will be much flatter and adjust the time in the oven accordingly. OR – you could make muffins I guess…
OK then, here we go – In a big bowl
2 bananas, mash them
add about 80 g spinach (I had frozen that I thawed in the microwave) and mix / puree. Using a hand mixer makes this very easy. Cool color – not what you'd normally associate with cake…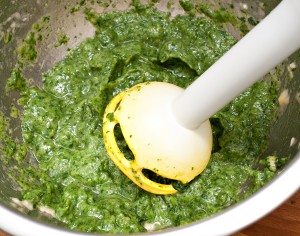 Then add
3 eggs
1 tbsp vinegar
(And if you want – 1 tbsp of honey. I did, but the cake turned out to be a bit too sweet so I will skip this next time! – although this also depends on how ripe (sweet) your bananas are…)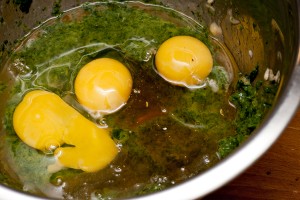 and mix (electrical whisk – my every day hero!)
Melt 50 g butter and add to the above
The dry ingredients – mix the following in a small bowl:
100 ml (0.4 cup) shredded coconut – grind together with 3 dried pitted apricots
100 ml (0.4 cup) almond flour – which is ground, blanched almonds
2 tbsp's coconut flour
1 tbsp cinnamon
½ tbsp cardamom
1.5 teaspoons baking powder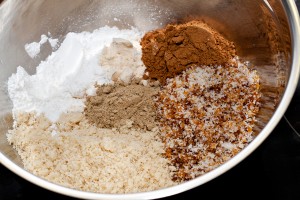 Mix with a spoon, then add the dry to the wet and mix or stir until all blended.
Fill your form (or your muffin forms) and pop into the oven. Lower part – for 45 to 50 minutes. Less if you have a large form… (Muffins in the middle part 180 C (350 F) for 20 minutes)
The cake has really, really a lot of taste going on. I found it lovely combined with a spoon of simple whipped cream – no added vanilla (or sugar). We'll definitely make this again!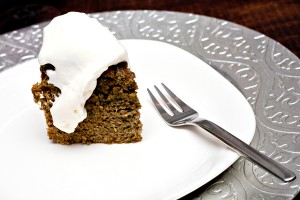 A quick note here – I've since, made this cake several times (love it!) and also made muffins using the same recipe, but adding one more egg. Can highly recommend it! Also – check my post on cacao butter cupcake topping – using the spinach banana muffin as base!
Enjoy!
Liesel
The fantastic banana and spinach cake