When I grew up, in Sweden, there was one baking book that pretty much everyone had. Of course also I have a copy of it, and there is one recipe that I've made about a 100 times – because my kids love these cookies just as much as I. They are called "chocolate squares" and are moist, sticky cookies with chopped nuts on. (Yeah, that does sound weird – I know!)
After coming up with a great recipe for Chocolate Chip Cookies that contains no traditional flour and no sugar and still taste fabulous – I knew it must be possible to make these as well. After a few test runs – this is actually pretty much the perfect "chokladrutor" (chocolate squares) if I may say so myself. Below – the original and the copy ! 🙂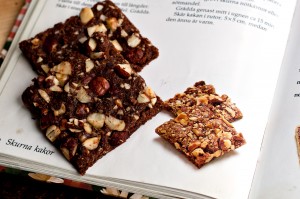 Start by chopping some nuts. About 125 ml – ½ cup of hazelnuts.
Then in a big bowl
100 g butter
1,5 tbsp's honey
and one egg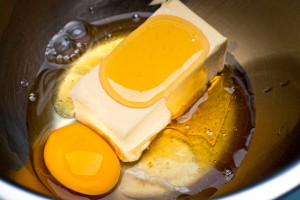 That just looks soooo promising, doesn't it? – Mix together with an electrical whisk.
In a smaller bowl, mix the following dry ingredients
9 dried apricots
100 ml shredded coconut – run this through a mixer / grinder together with half of the above mentioned apricots before adding to bowl. Like this…before and after :
100 ml almond flour (which is ground blanched almonds) – run this through a mixer grinder together with the other half of the apricots mentioned above before adding to the bowl. No pics of this – but I think you get it!
1/2 teaspoon baking powder
¼ teaspoon salt
1 teaspoon vanilla powder – or the inside of one vanilla bean
2 tbsp's cacao
That's it – mix with a spoon.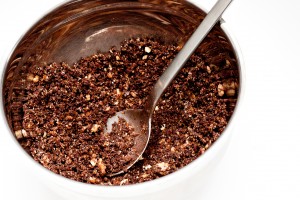 Then simply add the dry ingredients to the butter batter (that sounded nice!) and mix together. Electrical whisk still being my favorite here…
Now turn the oven on to 160 C (320 F) and line a baking tray with baking paper.
Spread the cookie batter on the baking paper – using a normal knife. Aim for the approximate size 25 x 35 cm (about 10×13 inch). Extra points will be given for a nice square shape…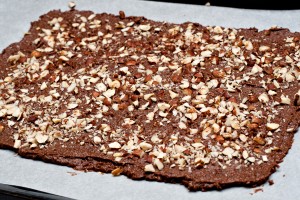 Spread the nuts evenly over the square and when done – lightly press them into the dough with your flat hand.
Bake in the lower part of the oven for about 15-20 minutes.
Then turn oven off – get out the tray and cut the square into smaller, eh…, squares / pieces. (I used a pizza cutter – you can also use a knife of course)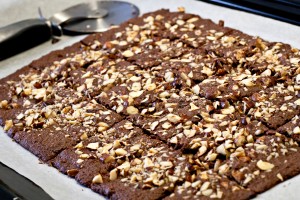 and now, with oven still off – put them back into the oven for another 20 minutes while it cools down. Leave the oven door slightly open – for example by putting a wooden spoon or similar in between…
I (who can never just let things be) took them out again after about 10 minutes, left them to cool for 5 and then turned the cookies upside down and put them back in to "dry out" the bottom those last 10 minutes…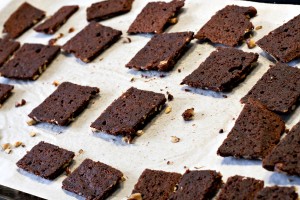 But then – my aim was to get the exact, sticky-crunchy, texture of the Swedish "prototype" (and that worked out perfectly!) – your aim might be different…. So you might just chill and skip the "turning around" thing! – which is totally fine.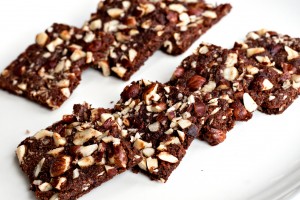 If you manage not to eat them all in one go – I guess you could keep them in a tin or something. Not sure – since this never happened to me… 🙂
Enjoy!
Liesel