The amazing red beetroot cake is one of the best cakes I have created, and I have for some time been thinking about experimenting more with beetroots. This is the result of that. I call it the sunset beetroot and pear cake because of the colors. It's a moist and intense cake with lots of different tastes going on.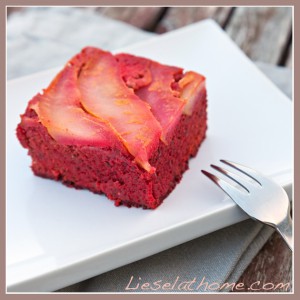 Beetroots are a big part of this cake and I suggest you buy fresh ones (about 1 kilo before peeling). Peel and cut into pieces and boil in a little salted water – just covering up about half of the beetroot pieces in the pan.
900 g (2 lbs) beetroot peeled and cut in pieces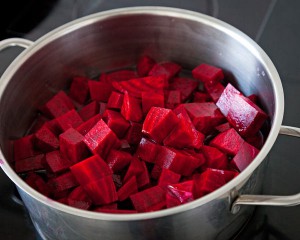 Set a timer to 30 minutes and boil over low heat.
In the meantime you can work on the pears.
2 pears – I had williams pears
Cut in thin'ish slices and place them in your baking form. I lined my form with parchment paper first to prevent the cake from sticking to it. You can very well use a round form as well – only my middle sized one is square and I thought it could be interesting. Try to cover the whole bottom, by cutting the pear slices into smaller pieces in the end – a bit like Mosaic. I needed only about one and a half pear – but if your form is larger you might need more…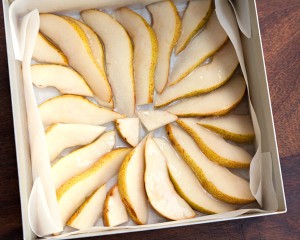 Then brush the pears with coconut oil or butter and a bit of honey
3 tbsp. melted coconut oil OR butter
1 tbsp. honey
Measurements not set in stone obviously, and by "brush" I simply mean "spread over". I used a spoon to drizzle the coconut oil and drizzled the honey right out of the package. If your honey is hard – try melt it together with the fat in a pot to make it more runny…
Then prepare the wet ingredients in a big bowl:
1 banana – mash it
4 eggs
1 tbsp. vinegar – I use apple cider vinegar
2-4 tbsp. honey depending on how sweet you want your cake. I had 2 but would go for 3 next time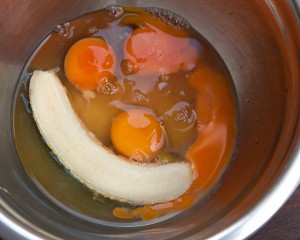 Mash and mix. I use a hand held mixer to quickly puree it.
Then separately prepare the dry ingredients in a smaller bowl or jug
200 ml (0.8 cup) almond flour – which is ground blanched almonds
100 ml (0.4 cup) coconut flour
3 tbsp. chia seeds
1 teaspoon baking powder
1-2 teaspoon ginger powder
1-2 teaspoon cardamon
and – I did not add but will next time – 3-4 tbsp. poppy seeds!!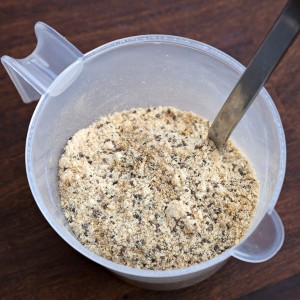 It only came to me once we ate the cake that poppy seeds would have been a nice addition to the cake. The surprise crunchiness is always a nice add-on to weird looking cakes like this one! 🙂
Anyway – mix the dry ingredients with a spoon.
Not the beetroots should be done – right? So drain the water and add:
4 tbsp. coconut oil OR butter to the drained boiled beetroots
Turn the oven on – to 160 C (320 F)
Then mash the beetroots. I use the hand held mixer again, but a blender could work too I guess (haven't tried it). A fork could be tricky, since the beetroot does not get really mushy, but if you have nothing else you could try…
Then add the mashed beetroot to the wet ingredients (banana-eggs) and blend. Add the dry ingredients too, and mix that in too.
Pour the cake batter over the pears and spread evenly. When baking grain free, the cake batter won't melt into a flat surface so you have to do that manually, using a spoon or something.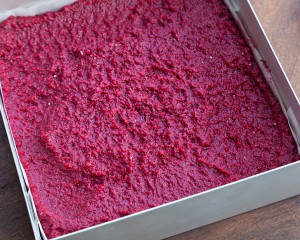 Bake in the lower part of the oven for about 60 minutes. Try with a toothpick int he middle to see if the cake is solid.
Take it out, let cool down before you try to turn it upside-down. Ehrm… I might have been a bit impatient and tried to get it out of the form earlier, and burned my arm plus dropped the whole cake on the side right into my fruit bowl…. (It was a reflex – I threw the cake away when I burned my arm…). SO – be patient! Let it cool down. Then turn the cake carefully upside down onto a plate. NOT into your fruit bowl… It is messy…
Enjoy the cake cold – best fridge cold. As it is or with a spoon of whipped cream, or creme fresh. The sourness of cream fresh could go well with the cake… (I am guessing!)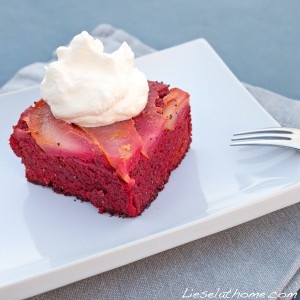 Love the strong colors!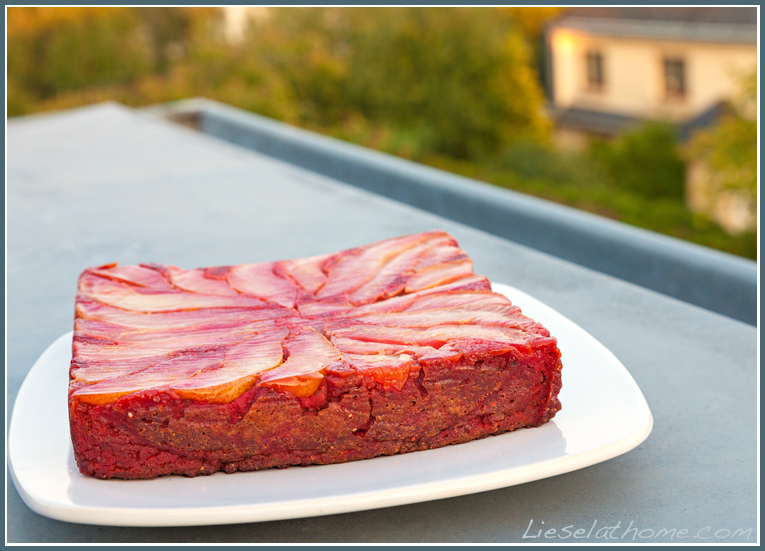 Sunset beetroot and pear cake – a fitting name I think! The cake is rather intense so cut small pieces.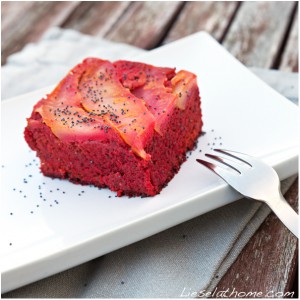 And as mentioned – poppy seeds would fit in this cake! 🙂
Enjoy!
Liesel
Sunset beetroot and pear cake