A little warning to start off with – this cake is not likely to impress anyone with its looks. It's not beautiful, and it might crumble a bit when you cut it – but it tastes wonderful!!! If you are following me on facebook you might know what I mean when I say a good looking cake is not everything… So let this be a cake for you and for your family to enjoy, and bake something else if the queen is stopping by!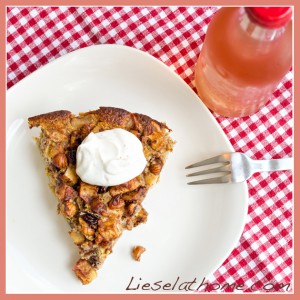 This fried apple cake is quite sweet for being a recipe on my blog – but sometimes we need that too! If you want less sweetness – cut back on, or completely leave out, the honey.
Start by frying the topping. You'll need the following:
2 apples – cut in pieces
250 ml (1 cup) mixed chopped nuts – I had walnuts, hazelnuts and pecan nuts.
50 g (about half stick) butter to fry in
1/2 tbsp. cinnamon
optionally 1 teaspoon cardamon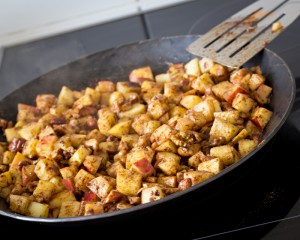 Put everything in a pan and fry for a few minutes until the apples go a little soft (but not totally mashy) and then add:
100 ml (0.4 cup – a hand full) raisins or other dried fruit like prunes (chopped in that case)
a drizzle of honey. I added about 1/2 tbsp.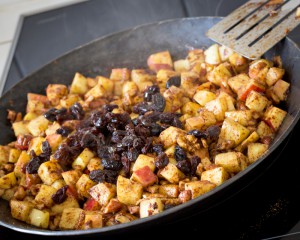 Stir, take the pan off the heat and leave while making the cake batter.
Turn on the oven – 180 C (360 F) and prepare a baking form. I used a glassware pie form but a normal cake form works as well. Smear the inside with butter or coconut oil to prevent the cake from sticking.
Get a big bowl out and add in the following:
2 bananas
3 tbsp. coconut oil (or butter)
zest (grated peel) of one organic orange
juice of that one orange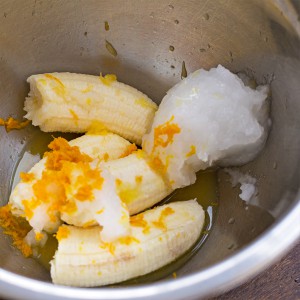 mash and mix the ingredients. A hand held mixer is excellent but not necessary.
Then add: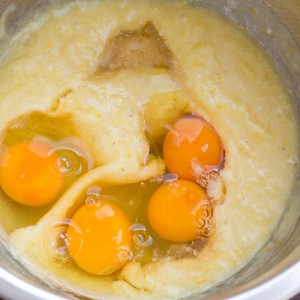 and mix that as well.
Now get another smaller bowl out and separately mix the dry ingredients:
100 ml (0.4 cup) shredded coconut
100 ml (0.4 cup) ground hazelnuts
3 tbsp. coconut flour
1 teaspoon baking powder
1/2 teaspoon vanilla powder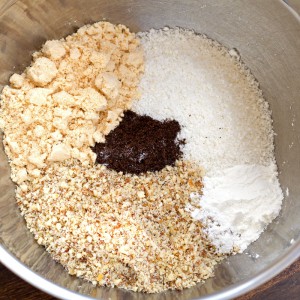 Mix with a spoon before adding the dry ingredients to the banana-egg mix.
Pour the cake batter into your form and then sprinkle the fried apple topping all over the batter.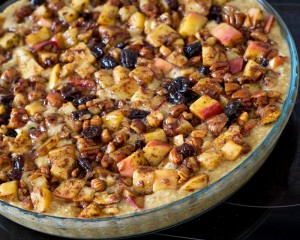 Slightly press the apple topping into the cake batter without totally drowning it.
Bake for 25 minutes in the lower part of the oven.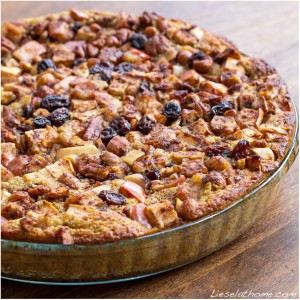 Lovely served with some vanilla quark (full fat quark /kesella with a little honey and vanilla to taste) and homemade ice tea 🙂
Enjoy!
Liesel