These are very popular in our house and whenever I make a batch they are gone within hours and I get asked to make more. The ingredients vary with what I have at home, but here is one version.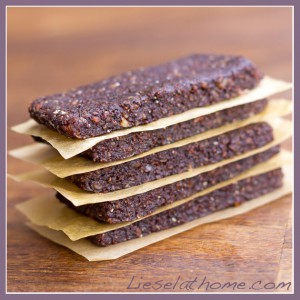 Start with dried fruit. It can be dates, apricots, raisins, apples – or a mix of all. This time I used Medjool dates. Grind the dried fruit in a mixer together with the nuts and the ground linseeds until you have a crumble. You might need to cut the dried fruit into pieces first for this to work, depending on your mixer.
8 medjool dates – or a total of about 150 g (5.3 oz.) of other dried fruits
100 ml (0.4 cup) nuts – I had walnuts, but use what you prefer
4 tbsp. ground linseeds – also called flax seeds
It is important that the linseeds are ground before you add them, or they will stay whole. Mix the above in a mixer and then add:
3 tbsp. cacao powder
4 tbsp. chia seeds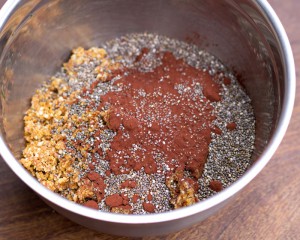 Stir around and then finally add fluid. The amount varies depending on how moist the dried fruit was, but generally somewhere between 3 and 5 tbsp. fluid. I like to add coffee, because of the taste combination, but water is fine too.
The dough should be sticky but not wet, so add spoon by spoon and mix around in between. Empty onto a baking sheet and roll flat using another baking sheet above the dough and a bottle to roll.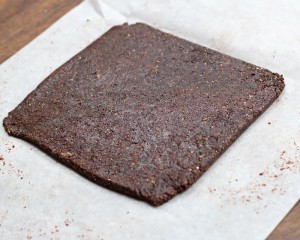 I like to fold the sides in over the dough back and fourth until I have a nice square…
Cut to pieces and wrap individually. Makes about 10 decent sized bars.
My kids love to pack one of these as snack for school.
Enjoy!
Liesel
Sweet grain free energy bars